Everteen Instant Toilet Seat Sanitizer Spray Review
The Perfect Feminine Toilet Seat Sanitizer In India
My elegant beauties, Evertreen benefits in maintaining vaginal health and is a herbal formulation composed under the supervision of specialists. This Evertreen with complete feminine hygiene is once again back with a super unique Everteen Instant Toilet Seat Sanitizer Spray For Women, which is developed after comprehensive research enduring sexual life and different stages of a woman. Evertreen Toilet Seat Sanitizer is a quality product from feminine hygiene is a reliable, effective, safe and immediate disinfectant spray that protects women from the risk of viruses and infections. And those who love to travel, possibilities are that one has to encounter public restrooms which are not comforting as our home. And most public restrooms are not hygienic. This product safeguards women from using a public toilet or restroom at different places that include the railway station, bus stand, airport, mall, office, school, college, hotel, and other public places.
Product Details
⦿ Name: Everteen Instant Toilet Seat Sanitizer Spray For Women
⦿ Quantity: This product comes in a 90 ml can.
⦿ Price: INR 185 only.
⦿ Gender: Women
⦿ Structure Factor: Mist or Spray
⦿ Country of Origin: India
⦿ Container Type: Aerosole Spray Can
⦿ Shelf Life: It comes with a shelf life is 36 months from the date of manufacture.
⦿ Vendor: Wet and Dry Personal Care Pvt Ltd.
⦿ Availability: This product is available on many online shopping marketplaces and you can directly be purchased within the famous brand website www.everteen.co.in.
⦿ Estimated Delivery: 3-5 Business Days.
Information Regarding Maintaining Safety
→ A safe and hygienic toilet is a requirement for everyone. This tiny can of Evertreen Toilet Seat Sanitizer cleanses, sanitizes and deodorizes.
→ The product should be kept away from any sources of combustion.
→ This is only for external use.
→ Inhaling or ingesting is prohibited.
→ It should be stored in a cool place away from daylight.
→ It should not be kept at a temperature exceeding 50°C.
→ The can must not be burned or stabbed even when it is empty.
→ Should be carefully sprayed on skin, eyes, cuts, burns or sensitive wounds.
→ Keep away from the reach of children.
→ In the case of unfavourable symptoms like skin rashes, usage should be discontinued.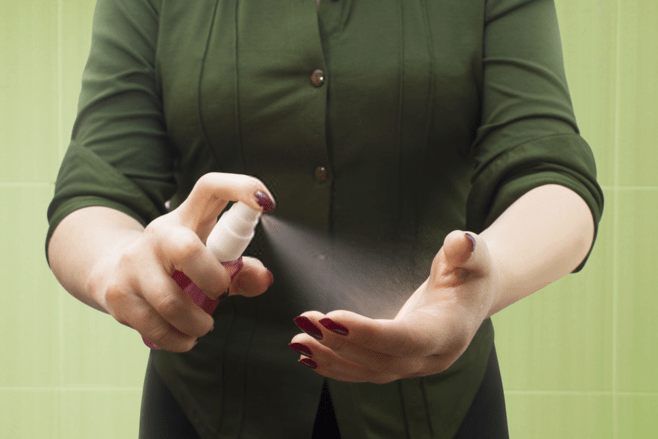 The benefits of Evertreen Toilet Seat Sanitizer
It can be a travel companion to many countries and cities too! The floral fragrance is fresh and persists long enough to prevent foul odours that are common in public restrooms. This protected toilet seat sanitizer can also be used at home to sanitize the toilets completely. The following are the benefits:
🗹 This Toilet Seat Sanitizer kills germs within a few seconds and helps to block and prevent urinary tract infection (UTI) and other infections.
🗹 This product is dermatologically tested by professionals.
🗹 The powerful ingredients and its pleasant aroma make the toilet seat shrieking clean.
🗹 This Toilet Seat Sanitizer arrives in a compact which is convenient to carry in our handbag or purse.
🗹 It is convenient, lightweight and most convenient to carry effortlessly.
🗹 It can be used on the toilet seat, seat cover, flush arm, taps, and doorknobs that provides pleasant hygiene.
🗹 It evaporates immediately and is ready to use the toilet within just a few more seconds.
🗹 The process of wiping it before using the sanitized toilet can be avoided.
🗹 A certified quality product that complete feminine health and hygiene expert.
🗹 This acts as a perfect travel companion for short holidays.
The process of using Evertreen Toilet Seat Sanitizer
This fabulous toilet seat sanitizer is very effective and easy to use. Trust me, it multiplies the cleaner experience. And it makes the bathroom more comfortable to use. The fragrance of this refreshes up the complete restroom too. This is safe to spray on taps, drains, and faucets to disinfect them. The following is the methods of using:
✔ Shake the Evertreen Toilet Seat Sanitizer spray can.
✔ Hold it straight in an upward position and spray in the affected area about an elbow-length distance of minimum 10 inches.
✔ Before using the toilet seat, we should wait for about 5 seconds for sanitizing.
✔ Contact with skin must be avoided.
My Experience with Everteen Instant Toilet Seat Sanitizer Spray
Nobody wants to risk catching an infection, do you? Especially while travelling or on vacation. Evertreen Toilet Seat Sanitizer protects from each possible infection and toilet-borne disease. Moreover, the bonus is that it ensures clean experience in our washrooms! With antibacterial, fungicidal and antimicrobial properties, that protect from keep viruses, bacteria, and fungus. With its natural, plant-based components helps in eliminating 99.9% of germs. Many people are still not aware of this Evertreen Toilet Seat Sanitizer in India. It is recommended to carry Evertreen Natural Hygiene Wipes and Evertreen Natural Intimate Wash with Evertreen Instant Toilet Seat Sanitizer in our handbag. This is just one step closer to managing hygiene. Wet and Dry Personal Care Pvt Ltd provides Personal Healthcare products with intimate hygiene to its buyers and transforms Personal Hygiene in India with their unique products. That's why I like this product very much.
Here are a Few Hand-picked Everteen Product Reviews for You to Read Next:
© LifestyleSimplify
Disclaimer: This is Guest post. The details mentioned in the post are true to the author's knowledge and for information purpose only. Unauthorized use and/or duplication of this material without express and written permission from this site's owner is strictly prohibited. Excerpts and links may be used, provided that full and clear credit is given to LifestyleSimplify.com with appropriate and specific direction to the original content.
1,973 total views, 1 views today