Everteen Menstrual Cup Review
Make Your Menstruation Comfortable With Everteen Menstrual Cup
Menstruation! Girls above the age of 13th are aware of this term and menstruation cramps, backache, headache, body pain, etc. associated with it. Whether you are a young girl who has just attained her puberty, or a full-grown woman, menstruation is a difficult period in the life of every female. These four to seven days period is a struggle for every woman. There is a common complaint among them that the use of pads cause them rashes and scars. It gives them an uncomfortable feeling and lowers their confidence in public. I was researching the market to find if there is any perfect pad or product available that makes menstruation easier. During my search, I found an unusual yet innovative product "Everteen Menstrual Cup". It sparked my curiosity to find what it was and how it worked.
As a result of my research I found, Everteen, is a leading brand in Indian market that manufactures natural and premium quality product that caters to the requirement for complete feminine hygiene. This New Delhi based brand has a reputation of owning largest collection in feminine hygiene. Though I had not used a Menstrual cup before, the vast product range of the brand made with 100% natural composition, and unending positive reviews got me to trust the brand and give its product a try. So, here is my review on Everteen Menstrual Cup.
I know menstrual cup is a totally new concept for almost all of us. So, I expect a lot of "ifs and butts" regarding this product. I am trying my best to give you clarity about the product that will put an end to your curiosities and solve your queries to a significant extent. This product is basically a cup to collect the menstrual discharge. It relieves you from the hassle of changing pads quite often during the day. With this simple product, you can engage in play, swimming or any other activity without any tension of pad getting displaced. It is safe and easy to use and help in smooth transition through menstruation phase.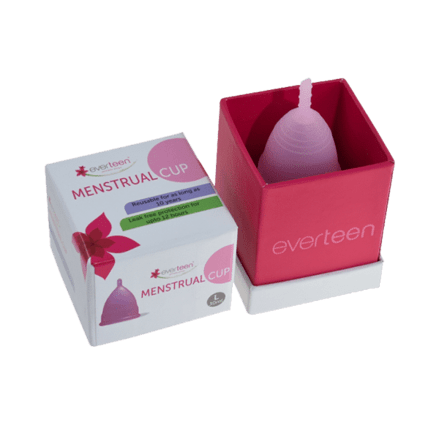 Product Details
⦿ Shelf Life: This cup comes with a shelf life of ten years from the date of manufacture.
⦿ Use: It is made for the use by women.
⦿ Price: INR Rs 435/- only.
⦿ Availability: This product is available only online shopping marketplaces. Some of the popular online stores where you can get it are:
• Everteen.co.in
• Amazon
• Flipkart
Product Packaging
The cup is made using medical-grade silicone material. It comes in two sizes "small" and "large". Small Cup is intended for light to medium flow whereas the large one is ideal for medium to heavy flow.
What Does The Product Claim?
Menstrual Cup is a distinctive product by this brand. The aim behind this product is to provide relief to women from the menstruation discomfort. Not just the cup makes vaginal discharge easier but also stops the abdominal cramps faced by women during this period. This happens due to the suction mechanism present inside the cup.
What is the right way to use Everteen Menstrual Cup?
As the menstrual discharge happens from the vagina, you need to insert this menstrual cup into your vagina. This is the only tricky part of the process. Beginners will find themselves to struggle a bit to find the right placement. In a few trial and error, you will learn the right way to insert it so that the menstrual fluid gets straight into the cup. There are a few methods that will help you to insert the cup into the right location of the vagina. These methods are the C-Fold, 7 Fold, Punch Down Fold, and a few more methods. To know more about these techniques, I would suggest you to google on these methods to learn how it is done.
Now after you learn the right insertion technique, you need to keep in mind to sterilize the cup before and after using it. For sterilization, keep the cup in hot water for a minimum of five to ten minutes. After when you have sterilized it, and inserted it properly, based on the menstruation flow, you may need to empty the cup and insert it again. A small sized cup is meant for low to medium flow and can easily stay for four to six hours. The large-sized cup is meant for medium to high flow, and works well for up to 12 hours without any need of emptying it. Well, when you try it for the first time, you will get a clarity about how much will your cup accommodate, and how long will it last.
My Experience with Everteen Menstrual Cup:
I failed a couples of times before getting the right placement. Punch Down Fold technique worked for me. Newbies can read a few posts or watch a few related videos to get the right way to insert the cup into the vagina. Be gentle and don't rush. Always ensure safety while inserting the cup. Also, don't get scared in the beginning of the use. Once you master the technique, you are definitely going to love it. I have started finding this cup method a lot easier, then carrying spare pads, finding loo to change it often, bearing the bad smell, and feel the discomfort of rashes, scars and moist feeling. With Everteen menstrual cup, you are not going to experience any of these discomforts. The right cup size, and insertion technique is all needed to make it a comfortable menstruation experience for you. I had a good experience with this product and would definitely recommend it to all other girls and women too.
Here are a Few Hand-picked Everteen Product Reviews for You to Read Next:
© LifestyleSimplify
Disclaimer: This is the Guest post. The details mentioned in the post are true to the author's knowledge and for information purposes only. Unauthorized use and/or duplication of this material without express and written permission from this site's owner is strictly prohibited. Excerpts and links may be used, provided that full and clear credit is given to LifestyleSimplify.com with appropriate and specific direction to the original content.
1,500 total views, 1 views today