Everteen Natural Intimate Wash Review
Natural Way To Maintain Your Intimate Hygiene
Evertreen is a well-known brand that caters to the varying needs for complete feminine hygiene. Everteen Natural Intimate Wash helps in efficiently cleaning the intimate area and keeps the bad odor away. Regular use destroys bacterial infection and impurities from the area and maintains an itchiness free area easily.
Product Details
⦿ Quantity: This product comes in a 105 ml bottle.
⦿ Shelf Life: It comes with a shelf life is two years from the date of manufacture.
⦿ Color, Fragrance, and Texture: Everteen Natural Intimate Wash comes in a bright yellow, and transparent colour. It has a jelly-like consistency. You will love its pleasant and mild herbal oil fragrance that stays with time.
⦿ Price: Rs. 180
⦿ Availability: This product is available only online shopping marketplaces. Some of the popular online stores where you can get it are:
• Everteen.co.in
• Amazon
• Nykaa
• Flipkart
Everteen Natural Intimate Wash Ingredients:
The product contains 0.3 % Ficus Glomarata, 1% sphatica, 0.2% Butia Frondosa, and 1% Aloevera. It has no artificial compounds in it.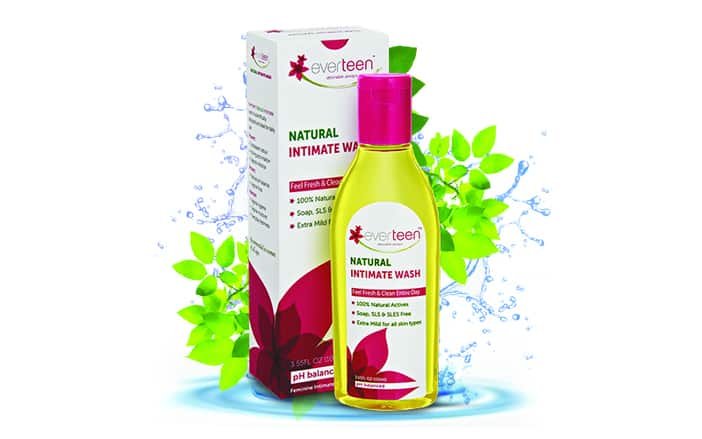 Product Packaging
Everteen Natural Intimate Wash comes in an attractive packaging. It is designed to be hygienic in use and travel friendly. It comes in transparent plastic bottle that comes with a flip top cap that prevents the liquid to spill out. This bottle is very convenient to use and carry.
What Does The Product Claims?
The natural extracts of plant present in the wash maintains the right pH in the intimate region. The beauty of this problem is that while destroying the bad infection causing bacteria it retains the "beneficial bacteria" in the area. The product cleanses all types of germs, dirt, and infections from the vaginal region. It lathers well and gently disinfects the vaginal area making it refreshed naturally.
How does Everteen Natural Intimate Wash work?
When applied, Everteen Natural Intimate Wash lathers well and its natural ingredients effectively eliminates bad bacterial growth, bad odor, dirt, and infection from the vaginal region. After washed, and cleaned with clean water, it leaves the skin refreshed and smelling great. The product is too mild and causes no irritation, redness or itchiness after use.
What makes Everteen Natural Intimate Wash superior than other similar products?
🗹 Natural Intimate Wash is a product by Evergreen that is one of the most reputed brands with a largest selection in women hygiene.
🗹 This product is made using 100% natural actives with no chemicals and harmful substance like sulphate and paraben in it.
🗹 It is free from Soap, SLES and SLS free.
🗹 As it has only natural ingredient in its formulations, it is very mild and gentle with no harsh impact on the skin.
🗹 It naturally soothes the area after wash.
🗹 There are no instance of dryness, odor, infections, and itchiness observed after application of the product.
🗹 The product is affordably priced.
🗹 Easy to buy, apply and carry
What is the right way to use Everteen Natural Intimate Wash?
To use Everteen Natural Intimate Wash, you need to clean your hands. Now wet the outer region of vagina. Take a sufficient amount of Everteen Natural Intimate Wash on your palm. Apply it uniformly on the region. Rinse it thoroughly. Use the product twice daily (once after shower and before you sleep) to get the best results.
My Experience with Everteen Natural Intimate Wash:
I use Everteen Natural Intimate Wash daily in the way as prescribed. I feel very fresh and clan throughout the day. I have used a few such products before it, but they felt itchy, burning, and irritating after the application. This is not the case with Everteen Natural Intimate Wash. I am a person with sensitive skin. This product marvelously without any signs of discomfort. This is an ultimate product for feminine hygiene. It only takes a tiny drop for a single use. This makes the bottle to last for several months. A tiny drop can make a good amount of creamy foam that easily spreads throughout the skin. It's Due to its thick texture, it doesn't come out even if you accidentally leave the cap open.
After wash, you will notice fresh feeling without any stinging or burning sensation. Chemical infused intimate washes require a lot of water to get rid of the lather. With Everteen natural intimate wash, the lather goes away with just a little water. You can use it in your periods as well and it is helpful in preventing the odor during that time too. I have been using it since a month, and I am very much happy looking at the results.
This is a good practice that will keep your intimate region safe from infection and other hygiene-related discomforts throughout your life. I recommend this product to every woman who prioritizes hygiene. If you one of those who suffers from vaginal itchiness, vaginal discharge, irritation, burning sensation, unpleasant odor, and dryness, then Everteen Natural Intimate Wash is the best answer to all these issues.
Here are a Few Hand-picked Everteen Product Reviews for You to Read Next:
© LifestyleSimplify
Disclaimer: This is Guest post. The details mentioned in the post are true to the author's knowledge and for information purpose only. Unauthorized use and/or duplication of this material without express and written permission from this site's owner is strictly prohibited. Excerpts and links may be used, provided that full and clear credit is given to LifestyleSimplify.com with appropriate and specific direction to the original content.
942 total views, 1 views today