Kelvan Marathi Wedding Ritual
Maharashtrian wedding is perhaps the simplest and quite less pomp compared to other weddings in the whole country. These wedding rituals present the core values of the Marathi culture and are considered to be one of the least opulent in India. Marathi weddings are colorful and playfulness with traditional and cheerful events. It believes in joy in little things that are sure to spice the whole event.
Kelvan Marathi Ceremony:
The most important set of pre-wedding rituals that take place at a Marathi wedding is the Kelvan ceremony. This tradition is being followed in Marathi wedding for years that takes place for every bride and groom. A couple of days before the marriage ceremony, the relatives and friends of both the families are invited to their places and close relatives give wedding gifts to them. In this Kelvan Marathi ceremony, both the parents of the bride and groom offer prayers to their family deity (Kuldevta). Then they invite each other's family for a meal and gifts are exchanged as a token of love. This significant ritual shows love, respect, and establishes a bond between the two families. In this ceremony parents formally give clothes, jewelry, and other expensive things to the bride. The Kelvan ceremony ends with a sweet and friendly note and both the family returns to their home. The Kelvan thali is commonly served in banana leaf with sweet or veg items. Sweets like pastries, gulab jamun, bananas, and balushahi are the common items in this thali.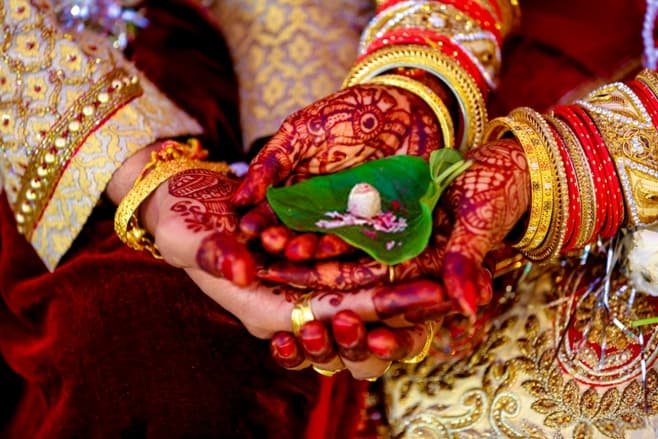 Conclusion:
Maharashtrian weddings are simple yet graceful and vibrant yet elegant. This wedding is filled with loads of fun and many pre/post-wedding rituals. However, Marathi weddings are sometimes blended with both traditional and modern values together. The wedding location can be done in any exotic location by following all the rituals. Creative return gifts can be offered to the guests without disturbing the conventional practices.
© Anupam Karan
Disclaimer: The details mentioned in the post are true to the author's knowledge and for information purpose only. Unauthorized use and/or duplication of this material without express and written permission from this site's author and/or owner is strictly prohibited. Excerpts and links may be used, provided that full and clear credit is given to Anupam Karan (LifestyleSimplify.com) with appropriate and specific direction to the original content.
4,699 total views, 1 views today