Introduction
Belly fat is one of the common problems found in people nowadays. Unhealthy fad diets, risky pills, and unsupervised exercise guidelines put people at a greater risk for a myriad of health problems. Ayurveda is one of the ancient medical sciences that suggests some potent and effective herbal and natural Indian herbs for weight loss and cutting stubborn belly fat. A combination of well-balanced diet along with Ayurveda herbs and regular exercise leads to healthy weight loss and forms a groundwork to a healthier, happier, and fitter you.
5 Indian Weight Loss Herbs That Burn Belly Fat Fast
#1. Guggul Extract
Guggul, is a very popular medicinal tree in Ayurveda since ages. The extract from guggul comprises of a phytosteroid named guggulsterone. It shows remarkable properties to lower cholesterol levels, fight cancer, boost metabolism and stimulate thyroid function in the body. Regular intake of Guggul Extract is very effective in burning calories and reducing LDL cholesterol) in the body.
#2. Neem
Neem, is one of the powerful herbs that burn belly fat fast. This medicinal tree is very beneficial antiseptic and weight loss medicine in Ayurveda. It is one such tree whose all parts such as leaves, fruits, and branches possess medicinal properties.
Neem leaves exhibits antimicrobial, antioxidant and anti-inflammatory properties. It enhances blood circulation and eliminates harmful toxins and contaminants from the body. Neem exhibits properties that boosts the digestive system and metabolism in the body. Due to which it reduces weight and fat accumulation, and maintains gut in good condition.
#3. Aloe Vera
The gel-like flesh obtained from the leaves of Aloe Vera is helpful in the treatment of weight loss. Aloe Vera contains antioxidants that detoxifies and cleans the body, and boosts metabolism. By keeping the digestive system healthy, this herb promotes quick weight reduction and elimination of belly fat in the body.
#4. Triphala
Triphala is another important Indian herbs for weight loss that aids in the removal of toxins from your body. It rejuvenates the overall digestive system. According to Ayurveda, Triphala is made up of three beneficial dried fruits, amalaki (amla), haritaki and bibhitaki. All these three Ayurveda herbs possess remarkable rejuvenating and cleansing properties that are effective in weight management.
#5. Ginger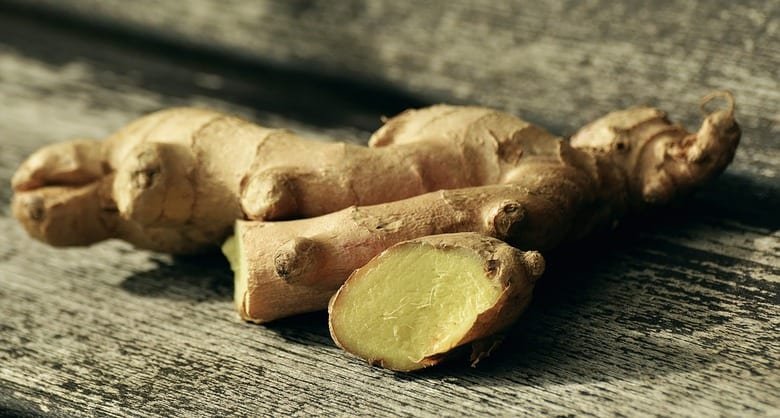 Ginger is another important Ayurveda herb that boosts the rate of metabolism by around 20%. It increases the speed of calorie burning procedure. It has got remarkable anti-inflammatory and antioxidant properties that soothes your intestines. Ginger has been known for its appetite-suppressant characteristics that reduces untimely food cravings. This herb enhances gut health, eliminates harmful toxins from the colon, and aids in melting fat fast.
Ayurveda is one of the safest ways to kick off that excessive flab on your stomach. So, these are some of the best known Indian Ayurvedic herbs that burn belly fat fast, lose weight and prevent various life-threatening conditions. Include them in your diet for safe and gradual reduction of unwanted fat and body weight.
© Anupam Karan
Disclaimer: The details mentioned in the post are true to the author's knowledge and for information purpose only. Unauthorized use and/or duplication of this material without express and written permission from this site's author and/or owner is strictly prohibited. Excerpts and links may be used, provided that full and clear credit is given to Anupam Karan (LifestyleSimplify.com) with appropriate and specific direction to the original content.
3,812 total views, 1 views today