If you need to wear your glasses full-time, the importance of comfort cannot be understated. Aching behind the ears, pinching around the nose, or frames that continually slide down can irritate anyone wearing glasses. Getting the right fit and having your glasses expertly adjusted is crucial to your comfort.
Continuous visits to your eye doctor for readjustments aren't on the schedule for most people. While it's important to have a secure fit when you first take your glasses home, frames can stretch, and nose pads can shift.
Whether you have plastic or wire-frames, are using non-slip nose pads, or are a new glasses wearer, it can take some time to work in a new pair of specs. Let's take a closer look at a few ways to make your glasses more comfortable.
How to Make Your Glasses More Comfortable?
With these 5 tips, you can make your glasses more comfortable.
1. Hair Dryer Haack
If you have plastic frames that always seem to slide down your nose, you know how annoying it can be when you are trying to get your work done. If you need to narrow down your nose piece on your plastic glasses, all you need for a quick fix is a hair dryer. Simply warm up the center frame of your glasses for about 30 seconds with your dryer, and then gently squeeze your frames until they are in the right formation.
2. Nose Pinchers
When you take your wire-rimmed glasses off, do you have angry-looking divots where your glasses have been resting on your nose? This could be an indication that your nose pads are too tight. If you feel your nose pinched, a slight adjustment can be helpful. A wider nose bridge with a set of non-slip pads can be very comfortable if you have to wear your glasses all day.
3. Stop Slippage
If you feel like you are spending half your time pushing your glasses back up your nose and into place, you are probably sick of the slippage. There can be several things to blame for slipping glasses. You may need to adjust your nose pads, tighten your corner frame screws or adjust your ear hooks. If you wear glasses, you should always have a repair kit handy to help you make these adjustments at home.
4. Correct Crookedness
Do your crooked glasses make you look like a cartoon character or a mad scientist? You can simply use pliers to straighten your arms and mold them back to the right shape if you have crooked glasses. If you have plastic frames, hit them with a bit of heat and straighten out the arms for a straighter fit.
5. Baby Powder Power
If the back of your ears is aching from your new glasses, it doesn't necessarily mean that they don't fit properly. It can take some time for the delicate skin behind your ears to toughen up to your new frames. For a more comfortable fit until you break in your new glasses, use a bit of baby powder behind your ears to keep the skin from feeling bruised.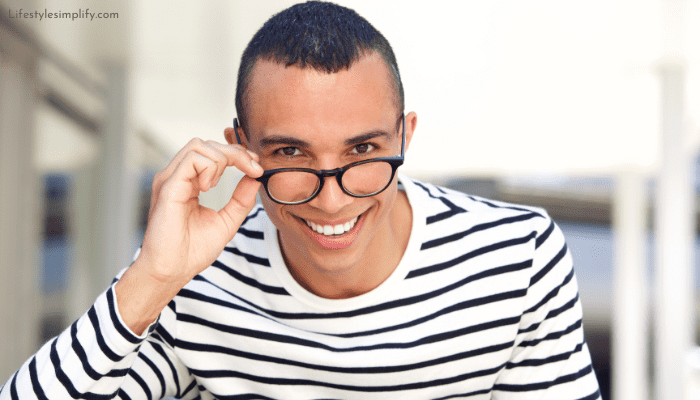 ➡ If you have a new pair of glasses that you love but aren't as happy about how they feel, follow these tips to help you make them more comfortable.
646 total views, 5 views today