Frances Conroy
Before we know what exactly happened to Frances Conroy eye, let's know some career information. At 68, Frances Conroy is a golden globe award-winning actress who has been a part of the movie business for a very long time with over 100 performances on stage, in films, and on television to her credit.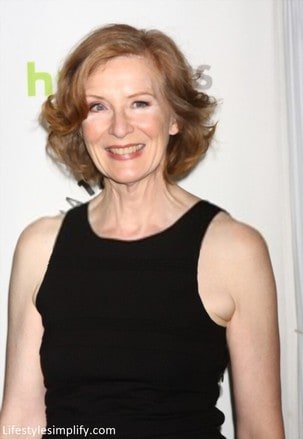 She has been a part of classics including Sleepless in Seattle, Joker, Scent of a woman, Desperate Housewives amongst other critically acclaimed content on film as well as television. The role that first got her fame and recognition was of Ruth Fisher in Six feet Under but the role that put her on the map and got her immense amount of love and praise would be of Moira O'Hara in the TV series – American Horror Story in 2011. She was supposed to be a part of only the first season but was also repeated in the show's second season on public demand.
Frances Conroy Eye Story
Now, apart from her brilliant performance what stood out here was the way Frances Conroy eye injury was incorporated in the story of the show by its screenwriter Ryan Murphy. It can be termed as one of the best examples of an actor having an injury written into a script to cover up or make use of an injury they have endured in real life. Her character who had a distinctive eye was shot in the eye and killed on the spot after found in the arms of some character's husband. For the first time, she wasn't told by the makers to hide her eye under lenses because Frances Conroy Eye in itself was a defining characteristic for her character.
Frances Conroy met with a car accident in which her car crashed leaving her left eye injured, in which she was required to undergo eye surgery. Frances Conroy Eye accident ended up making her left eye look a little different from her right eye. Her eye's vision and light sensitivity also differ from that of a regular eye. She mostly wears colored contact lenses when she portrays a character on screen, apart from a happy exception of Moira O'Hara.
In real life, Frances flaunts her eyes with utmost confidence and turns up at events and awards show even without wearing lenses. She stands tall for the woman that she is and all that she has achieved. She hasn't let the accident bog her down in any way, on the contrary, she seems to be more confident and extremely comfortable in her skin.
Frances Conroy is the perfect role model for body positivity across the world. She is a reel as well as a real-life hero, who didn't succumb to her injury and emerged as a queen. She is happily married to her husband and her career is at its glory. At 68, she is far away from hanging her boots. She is truly inspirational as when life tried to throw an egg on her, she made a cake out of it. It is truly Frances's world and we are all just living it in.
Frances Conroy Net Worth
Frances Conroy has been working in the entertainment industry for a very long time, and her estimated net worth as of 2021 is approximately $4 million dollars.
Frequently Asked Questions
7,017 total views, 1 views today