Margashirsha Guruvar
Margashira normally falls between the months of November and January. This year Margashira falls between 20 November 2021 to 19 December 2021.
What is Margashirsha?
The ninth month of the Hindu calendar, Margashirsha is considered to be an auspicious month in the Hindu religion. Lord Vishnu and Goddess Lakshmi are worshipped during this period. Goddess Lakshmi is the goddess of wealth in the Hindu religion. She is worshipped during the entire month for fruitful finances.
What is Margashirsha Guruvar?
Margashirsha Guruvar is used to refer to the Guruvars, or Thursdays, that fall in this month. On every Thursday throughout this month, Goddess Lakshmi is worshipped. Devotees organize Lakshmi Puja on those days and the women of the households undergo Vrat, or fasting, as a tribute to the god.
How is the Margashirsha Guruvar Puja and Vrat celebrated?
During the Margashirsha month, Margashirsha Guruvar Lakshmi Puja is observed from early morning, or rather sunrise, until the sunsets. Devotees wake up early in the morning and take baths before offering their prayers to the Goddess Lakshmi. Throughout the day, no non-veg items are allowed to be consumed. People can eat fast-friendly food such as Sabudana and fruits. The recitation of the Mahalakshmi Vrat Katha is an important part of the ritual. Pure vegetarian food items are offered to the devotees after sunset in order to break the fast.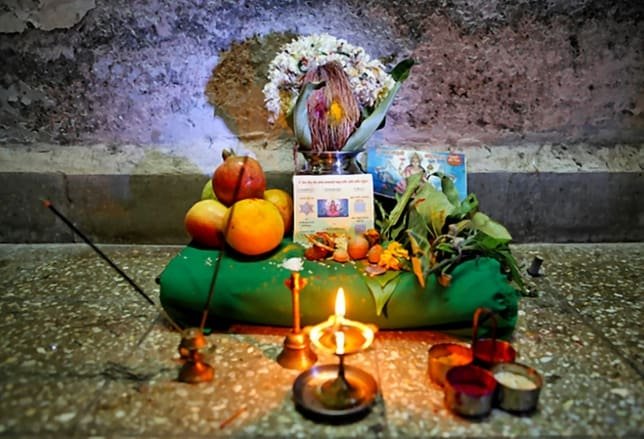 How to conduct the Margashirsha Guruvar Puja and Vrat?
One primary point to keep in mind is to keep the area where the Puja is being conducted very clean. Devotees should take early baths and wear clean clothes during the Puja. Below are the steps that should be taken to conduct the Puja and Vrat:
1. A kalash, or a brass/earthenware pot, filled with water should be made ready and adorned with mango and betel leaves.
2. A top of the kalash, a coconut should be placed on top of it with Haldi-kumkum.
3. Next the kalash has to be put on a plate with rice grains.
4. The coconut needs to be adorned with a flower garland.
5. Mahalakshmi Vart Katha should be recited throughout the day. Shri Mahalakshmi aarti and other prayers should also be offered.
6. Sweets and fruits can be offered as Bhog.
7. Margashirsha Guruvar Vrat is observed by the women. They prepare special items to break their fast after sunset.
8. On the last Thursday of the Margashirsha month, women celebrate a small puja by gathering together with neighbors and other women who are also fasting. Each women is considered as a manifestation of the Goddess Lakshmi and after the puja, sweets and fruits are offered to them by the other people as prasads.
It's a good habit to chant the Goddess Lakshmi mantra during this period and meditate. The mantra goes as: "Om hreem shreem lakshmi bhyo namah."
11,837 total views, 3 views today