While adding bold and bright colours to the kitchen is a great way to spice up the space and elevate its ambience, let's face it, bright colours are not everyone's cup of tea. Some may love a bright orange wall or a hot pink bar stool, but a majority may just cringe at the brightness of it all. If you are a part of the latter group, this article was tailor made for you! Creating a kitchen remodel plan need not necessarily be frustrating – especially when the addition of a bright colour is on the cards!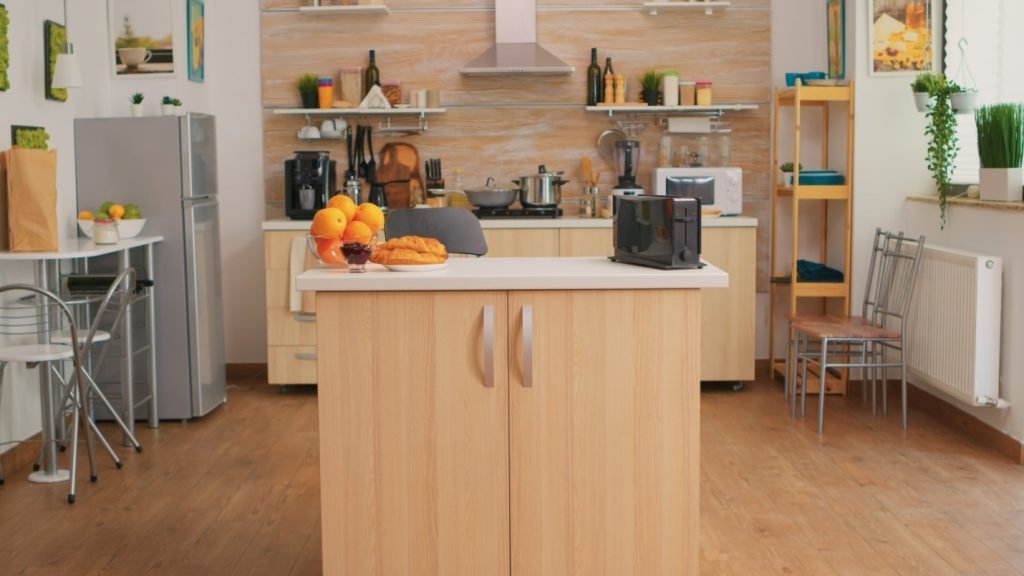 Read on to know how to add colour in small doses to your kitchen, so that the whole exercise serves to be exciting and not frustrating!
10 Ways To Subtly Add Colour To Your Kitchen During Renovation
1. Install Tile Floors
One of the biggest signs that a kitchen needs renovating is worn out floors. Stained, chipped, cracked and faded floors are not only an eyesore, but are also a safety hazard. Change up the flooring and opt for kitchen floor tiles – not only are they durable and easy to clean, but they are also available in a wide variety of colours, designs, shapes, sizes and patterns for you to choose from. You can choose to add a tile with subtle coloured patterns to inject colour into the kitchen effortlessly and seamlessly.
2. Use Kitchen Rugs
If changing the whole flooring is not required or not in the budget, the second best thing you can do is add a kitchen rug. A bright rug can not only hide the unsightly spots of your kitchen floor, but can also add a pop of colour to the space, without being too intrusive. And, if the rug gets stained or you get bored of it, you can easily wash it or switch it out for another one, without having to incur massive costs.
3. Update Colours On Kitchen Seating
Upgrading your kitchen seating is another great way to add colour to your kitchen in an unconventional way. Paint your wooden chairs a bright colour or reupholster them to add some character to your seating. Adding bright throw pillows as a backrest can also be a great way to infuse colour into the space. You can go eccentric with your choices and choose colours that you may not often appreciate in large doses in the kitchen – such as a neon green wall or sunshine yellow countertop.
4. Paint Walls
Painting walls is the simplest way to add some colour into the space. An accent wall can help elevate the space with a bright colour in a controlled amount. Cabinets on the wall can help break up the monotony or the brightness of the colour, providing you with a considerably smaller space to cover – allowing you to go bold with your choices. And the best part is that if you are not happy with the colour you can simply paint over it and choose another colour!
5. Use Wallpapers
While people often think that they have only two options when it comes to their kitchen wall, paint or tile, there is indeed a third option available – wallpaper! With the advent of technology a large amount of waterproof wallpapers available now and can easily be used in a space like a kitchen that sees a lot of water use. You either can use it on your accent wall or use it on the backsplash to create a mesmerising focal point.
6. Paint Accent Doors & Cabinets
Two tone cabinets are the latest rage and we do not see this trend going away any time soon. Not only are they a great way to add colour to the kitchen, but also require minimal commitment. Maybe opt for a line of upper cabinets or lower cabinets in a bright colour, while keeping the rest of the cabinets subdued so as to keep the minimalistic vibe of the space. If your existing cabinet doors are good to go, all you need is a fresh coat of paint to upgrade them and add a modern touch to them.
7. Add Modern Lightings
Kitchen lighting, despite contrary belief, does not need to be limited to a few tube lights on the upper end of walls. Rather, the latest trend is to switch things up and add modern lampshades – in different colours – to accentuate the beauty of the kitchen. Small glass pendant lights can be used to beautifully highlight dark corners, while practical LED bulbs can be used for more functional purposes.
8. Install Colour-Changing LED Lights
The latest rage in the lighting world is the colour changing LED lights. With a single click of a button you can go from bright white to warm orange to a disco green, red and blue to a welcoming shade that is a mixture of orange and white. You can keep changing the colour of the lights to reflect your mood and each shade can give your kitchen a completely different look!
9. Use Window Shades
Window shades are an excellent way to subtly inject colour into your kitchen. And the best part is that you can change them effortlessly. Shades are a far better option for kitchens than curtains since
a. They require minimal space and can be folded to one side or the top, providing you with maximum use of the window (which is usually smaller in kitchens anyway!)
b. They stay put and don't fly around (which is a risk with fire involved in the kitchen)
10. Use Colour-Coordinated Accent Pieces
Ok so you don't want to make big, permanent changes to your space. This does not mean you need to miss out on the colour train. Bright kitchen towels, oven mitts, quirky silverware or flatware with bright designs and even hand painted storage jars can be used to add colour to the kitchen in small, non-permanent ways. Just make sure you evenly distribute the coloured items throughout your kitchen and not concentrate them on a single shelf or wall!
Adding colour to a space can instantly uplift the mood of a kitchen and give it a happy vibe. While adding large doses of bright colours may not be everyone's cup of tea, adding small pockets of colours is certainly manageable and can add an unmatched charm to any kitchen. With renovations come budgets and a lot of times making big changes is not possible – making the small changes even more important – after all, you do want your renovated space to have a lasting impact on your guests. I hope these little tips help you add colour to your space and elevate the overall look of the space without emptying your pockets!
Author Bio:
Mahima Rawat works with the content team at Orientbell Tiles, where she creates interesting lifestyle pieces on home and interior design. She loves presenting options to her readers so they can make the right choices when it comes to their home interiors. Flooring and tiles are her favourite topics. Besides interior design, she also loves to travel, play badminton and listen to music.
Disclaimer: This is Guest post. The details mentioned in the post are true to the author's knowledge and for information purpose only. Unauthorized use and/or duplication of this material without express and written permission from this site's author and/or owner is strictly prohibited. Excerpts and links may be used, provided that full and clear credit is given to LifestyleSimplify.com with appropriate and specific direction to the original content.
1,044 total views, 9 views today