Durga Puja is one of the most popular festival celebrated by Hindus in West Bengal, India. People on this day wear new festival clothes and visit puja pandals or temples with family, relatives, and friends.
Durga Puja is a festival of nine days. On this day ladies dress up in new saree and offer new sarees to Goddess Durga. It is an important ritual that is performed by the devotees during all Puja days. Bengali style saree draping is one of the most distinctive and recognized ways to wear saree. To do it, you need to follow a few steps.
How to wear saree in Bengali style step by step
✔ Tuck the saree in the waist.
✔ Make a pleat and by tucking it back.
✔ Make pleats of remaining saree and cover up the upper body.
✔ Take the top portion of pallu to the front from below the right hand.
Reasons to choose Bengali Style Saree
① Distinctive Appeal
In Durga Puja celebration, people wear a variety of new clothes amongst which Bengali style saree overlaps every other attire.
② Available in a lot of Designs and Colors
These sarees are available in a variety of designs such as floral, geometric, 'buti' bird motif, etc. and colors that makes them appealing to women. You get sarees in silk and cotton fabric in self-colored and combination types.
③ No Age Bar
Bengali sarees are available in a wide range such that any person can wear it irrespective of any age bar.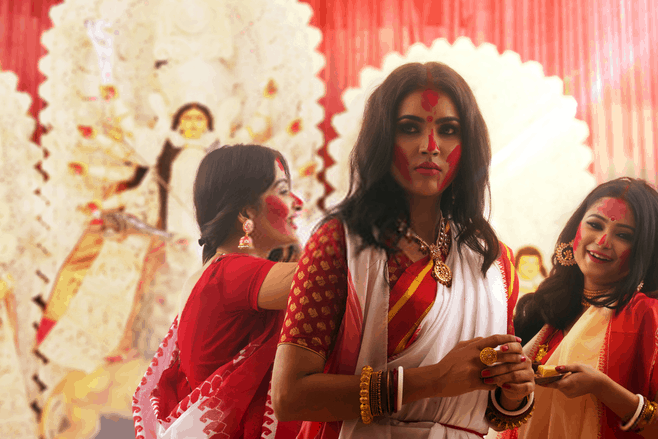 ④ Spectacular Sight
A lady wearing a saree Bengali style creates an ambiance of puja wherever she goes. Especially on the last day of Durga Puja festival, ladies wear the red and white color of Dhakai Jamdani Bengali style saree that creates a spectacular sight for everyone.
⑤ Ethnic Traditional Look
Another important reason to wear these sarees is because of its gorgeous ethnic look that upkeeps the rich cultural heritage of the country during the Durga Puja celebration.
© Anupam Karan
Disclaimer: The details mentioned in the post are true to the author's knowledge and for information purpose only. Unauthorized use and/or duplication of this material without express and written permission from this site's author and/or owner is strictly prohibited. Excerpts and links may be used, provided that full and clear credit is given to Anupam Karan (LifestyleSimplify.com) with appropriate and specific direction to the original content.
4,553 total views, 3 views today