Deyga Anti Acne Kit Review
You will know about Deyga anti acne kit review in this post. An acne is defined as a skin problem that effect on the oil glands and the hair follicles. Oil, dirt, and dead cells plug into the follicles that attract bacteria and cause redness. This further leads to breakouts, pimples, blackheads, and whiteheads. While every skin is beautiful, acne can be a source of intimidation and emotional stress in your life. Though removing the disease completely might take a lot of time and effort, natural remedies can lessen the pain. Sometimes using the correct product can cure breakouts and reduce their frequency.
Deyga Anti Acne Kit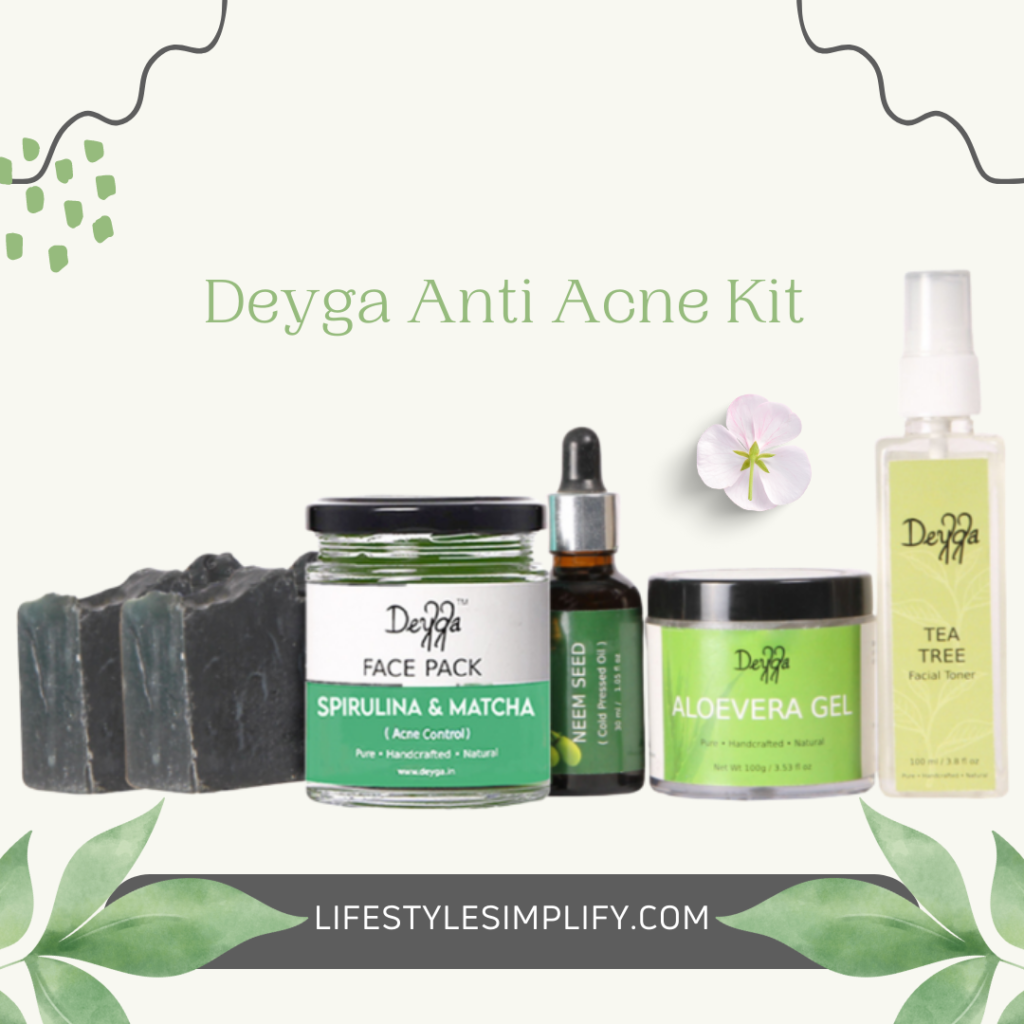 Best Used for Acne and Pimple Affected Skin Types: Deyga Anti Acne kit is filled with products that have natural ingredients that act as home-based remedies. It is made in India and consists of a variety of natural products for your acne-prone skin. It consists of five products that if used stepwise correctly, can boost your skin regimen. The whole kit provides a series of steps that provides a nourishing and satisfying experience.
The Following High-Quality Products Are Present in the Entire Kit:
①
Deyga Charcoal Bath Bar:
Activated charcoal can be used to remove bacteria and unclog skin follicles. Charcoal has been proved to remove excess oils, removes impurities, and absorb toxins from the face and body.
The Devga Anti Acne Kit includes a body soap activated with activated charcoal. It is suitable for all skin types and gives your skin a healthy glow and softens it without much shine. The soap can be directly applied which is convenient to use.
②
Deyga Aloe Vera Gel:
When we think about acne home remedies, aloe vera is the first thing that comes to mind. Aloe vera is a natural substance that has been well studied and is found in nearly all skin care products. It has Vitamin E which can heal pimples and remove scars. However, it is difficult to obtain and extracting the gel requires considerable time and effort.
Devga Anti Acne Kit includes a jar of extracted aloe vera gel. This product has no added chemicals and acts as a natural anti-bacterial substance to treat acne. It prevents cyst breakouts, kills skin viruses, and shrinks pores. The product has a natural chemical of magnesium lactate reduces itch, sunburns, and leads to healthy restoration of damaged skin.
③
Deyga Tea Tree Skin Toner:
Tea tree skin is well-known for its therapeutic capabilities. It reduces inflammation and consists of antimicrobial properties.
Devga Anti Acne Kit has a toner with essential tea tree oils that can be helpful to treat acne. The product removes redness, swelling, and eliminates impurities. It makes skins clean and acts as a spot treatment for acne. The toner can be used directly and should be used daily for better results.
④
Deyga Neem Seed Oil:
Another natural oil that helps in multiple skin treatments and acts as a natural anti-aging product is neem oil. Vitamin C and antioxidants abound in this oil.
Deyga's kit includes a pure neem oil product with no added chemicals. The oil is cold-pressed from real organic neem seeds, It stimulates collagen production, balances oil production, reduces pigmentation, and reduces acne spots. Devya's neem oil is a handy product that works better than any regular facewash due to its high absorbing nature.
⑤
Deyga Spirulina & Matcha Face Pack:
Spirulina and matcha are considered superfoods that are packed in vitamins and minerals. Spirulina is a freshwater alga that has a lot of amino acids which is good for the skin. Matcha is a specific powdered green tea potent in antioxidants.
Deyga Anti Acne Kit includes face masks that contain both of these amazing superfoods. Spirulina fights acne-causing bacteria and brightens the skin glow. Matcha soothes, brightens, and increases skin elasticity. Both these natural components combined in a face mask prevent fungal acne, removes zits, detoxifies the skin, and keeps the skin hydrated. Apart from that regularly applying this face mask can prove to be a source of leisure and destress you completely.
Product Link: Deyga Anti Acne kit (Discount Available)
Steps to Apply Deyga Anti Acne Kit and Their Uses
To get spotless, acne and pimple-free skin, Deyga's Kit can be used in the following steps:
After cleansing your face with normal water, neem seed oil can be applied to the face especially to affected areas for about half an hour.
Since the problem of acne is mostly internal, applying this oil to the belly button can be more effective. This is because it can help purify and detoxify impurities, blood and increase organ health.
Next, Charcoal bar soap can be used to remove the oils applied.
Aloe vera gel should be applied next. This product is advised to apply overnight so that it can remain intact for many hours.
A special feature of aloe vera gel in the kit is that it can be used for various purposes. For example, it can be used as a natural primer before makeup or even apply to dry skin for a natural shine.
The tea tree facial toner can be used during facials or making up.
The Face Mask can be applied twice a week because of its high antioxidant potency to reduce pimple occurrence. It can be mixed with the toner to achieve combined benefits.
Pros of Deyga's Anti Acne Kit
The best thing about Deyga's kit is that it works for for all skin types. It consists of natural ingredients and isn't necessarily specific to acne-prone skin. Every skin type has some problems due to increasing pollution, hormone imbalances, and various internal factors. Therefore, Deyga Anti Acne kit can be used as a general skincare routine also. They work well for dry as well as oily skins as their products act as a natural oil balancer. This means it increases the production of oil in dry skin and vice versa.
Some Cons of Using the Kit
Since all-natural products are available in this kit, overusing Deyga's products can create multiple other problems. Also, the method in which you apply the products should be correct. For example, excessively scrubbing the affected area with charcoal soap can dry out the area. Similarly putting in excess oil can gather more pollutants and bacteria which might harm your acne further.
Generally, people with severe acne have to take medications and consult their doctor for using a product. Like all products, Deyga's kit might not suit every skin and might lead to allergies. To avoid this, patch testing on insensitive skin should be done a day before.
Overall Value for Money Product
All the products in Deyga's Anti Acne Kit are beneficial and have some additional advantages. While the tea tree toner is rich in essential oils, the charcoal bath soap can act as an overall cleanser. The neem and aloe vera gel is no doubt natural and matches with your Indian home-based remedies. Antioxidants from both products can contribute to make your skin glow and reduce acne.
Spirulina and Matcha face masks can be considered a premium product in this whole kit. They both are not easily available and can be heavy on the pockets. Therefore, the face mask provides easy access to both of them in an inexpensive price of Rs. 2480 only. Deyga's Kit is also perfect to gift someone with skin problems and make their woes go away. You can try it from Deyga's official store.
1,306 total views, 3 views today