Golbari Kosha Mangsho at Kolkata
Introduction
Golbari is the heart of Shyambazar that has our existence rooted in it. The name of the restaurant is New Punjabi Hotel. Being on the ground floor of a semi-circular house and thus the name Golbari came into existence. The address is 211, Acharya Prafulla Chandra Road, Kolkata – 700004, right on Shyambazar Five Point Crossing. The heritage of this place attracts every traveler that passes by. As restaurants have started experimenting and adopting global cuisines throughout the country, Golbari carries with them a whiff of nostalgia that charms their loyal diners. This ancient eatery never fails to delight the self-respecting Bengalis with a taste of history and local culture along with lip-smacking food. The idea of this old Punjabi restaurant was to serve spicy, delicious meat to the locality.
The Reason Why Golbari Kosha Mangsho is Best:
Bengalis love to eat mutton/goat meat with hot, spicy and greasy gravies. The authentic taste and smell of kosha mutton with dark and rich gravy is fantastic. The lamb is marinated with papaya pest to tender the mutton a proper softness. With loads of oil around the plate and a few pieces of mutton makes the dish perfect. The cooking in this restaurant is done with the correct hygienic way. The combination with plain rice or Paratha makes the dish look like heaven — all perfectly balanced.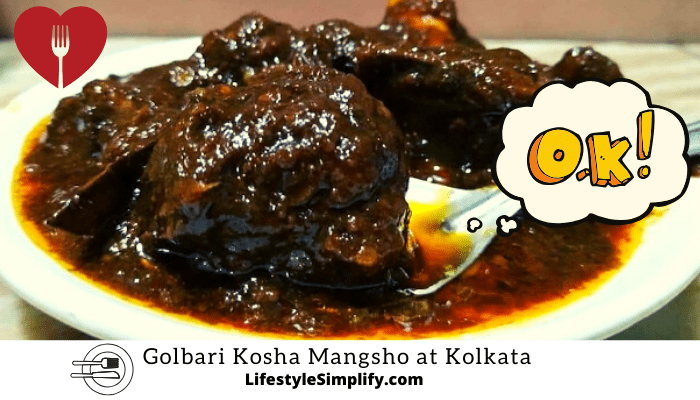 Price of Golbari Kosha Mangsho:
The price of Golbari mutton kosha (qtr.) is around Rs 223, which is very reasonable and easily affordable.
Golbari Kosha Mangsho with Home Delivery:
This restaurant also provides a facility for quick home delivery. Their quality is so consistent, and the huge rush of customers has boosted this home delivery facility.
Golbari Kosha Mangsho Online:
We can easily order this famous dish from our renowned Golbari restaurants and track on the go, with all-new Online-food delivery apps. These Apps support hassle-free ordering with quick delivery. These Online-food delivery Apps are powerful and easy to use. These apps are trusted and adopted by millions.
? Conclusion
They prepare delicious non-veg food with so many varieties and proper presentation. The ambiance and decor are also good with fantastic customer service. The number of times you will visit the restaurant, the more you will want to go. The delicious, mouth-watering Mutton kasha with Paratha and salads are just outstanding, mouth-watering and irresistible. The mutton kosha over here is just pure bliss!!! I will request all to visit at least once to this fabulous place once you visit Kolkata. The best and the foremast part is the food "Kosha Mangsho".
© Anupam Karan
Disclaimer: The details mentioned in the post are true to the author's knowledge and for information purpose only. Unauthorized use and/or duplication of this material without express and written permission from this site's author and/or owner is strictly prohibited. Excerpts and links may be used, provided that full and clear credit is given to Anupam Karan (LifestyleSimplify.com) with appropriate and specific direction to the original content.
3,729 total views, 1 views today