Garnier Micellar Cleansing Water Review
Introduction
Hello lovely readers, We know, Garnier is a very famous brand for cosmetics and Fashion. This brand is a symbol of quality thus, it deserves a try. Today, I am going to review Garnier Micellar cleansing water, which has already gathered a lot of admiration. This is practically essential products for every lady who wants to look healthy, beautiful and confident.
Garnier has recently launched a new product in India that has gained a lot of appreciation among people. It is Micellar Oil-Infused Water cleanser. This article reviews about this product to get the real insight about the product.
Who Is This Product Meant For?
Garnier Micellar Oil-Infused Water cleanser is an efficient, and gentle cleanser for men and women. The product is seen to be effective in removing make-up, dirt and impurities from the skin. It leaves your skin nourished. The product is ideal for dry, and sensitive skin.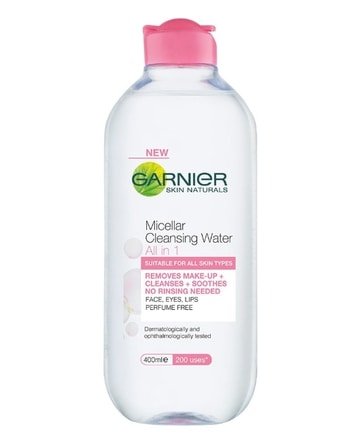 Garnier Micellar Water Ingredients:
These tiny lipid molecules delicately cleanse and moisturize the skin without irritation and overdrying it. Regular use will improve skin elasticity and give it a healthy shine, and sensation of purity. The ingredients are:
• Aqua or water
• Hexylene glycol
• Glycerin
• Disodium Cocoamphodiacetate
• Disodium EDTA
• Poloxamer 184
• Polyamonipropyl biguanide
Micellar Water Garnier Ingredients Details:
• Decyl Glucoside: This is a mild non-ionic surfactant, acts as an active cleanser.
• Rosewater: Acts as anti-inflammatory properties and helps in redness, acne, eczema, etc.
• Aloe liquid: It stimulates the growth of new cells and deals with acne, sunburns, and other skin conditions.
• Glycerin: It has antimicrobial and antiviral properties which help in the wound and burn treatments.
•  Cucumber extract: It has the soothing, hydrating and has astringent properties.
• Cosgard/Geogard: This is used for preservation.
• Distilled water: It protects against unwanted microbes.
• Lactic acid: Drops of lactic acid is used to keep the pH between 5-6.
Micellar Oil-infused Water:
This is a type of facial cleanser based on purified water, free from minerals and heavy metals infused with mild surfactants that join to form tiny molecules called micelles, hence the product named. Micellar technology works like a magnet with nourishing oils which helps in removing the strongest makeup and makes skin clear and free from irritation. Its power-packed formula attracts dirt, grime, excess sebum and purities, soothe and refresh the skin.
How Does The Product Work?
Garnier Micellar Water Ingredients comprise of essential oils and natural skin cleansing agents that shows powerful action to remove impurities and dirt from the skin. The oils contained in the product has the ability to dissolve all kinds of make-up without any rubbing and rinsing.
How Much Is It Priced For?
The product is moderately priced in the market. Its introductory price is INR 399 for 400ml.
How to Use Garnier Micellar Water?
This is one of the simplest ways to clean our skin. We just need to moist a cotton pad and wipe slowly on the skin. This Garnier micellar water is reasonable, with no parabens, no alcohol, and no sulfates. It works well for liquid lipsticks and waterproof mascaras. And lastly, it is tested by Dermatologist and ophthalmologist.
My Experience With Garnier Micellar Oil-infused Cleansing Water:
The product comes in an attractive looking small-sized plastic bottle with a flip cap feature. This oil-based product is light yellow in colour. The quantity is reasonably good. This 400 ml product can be easily used for 200 times.
The product when applied on the skin feels very light. The thin water texture smoothly glides on the skin. Micellar Water Garnier Ingredients are blend to form a non-oily and non-sticky base. The product lives to its claims. It is suitable to remove all kinds of makeup and clean skin pores in just a few strokes. It magically removes dirt and waterproof makeup leaving behind a thoroughly cleaned, non-oily, and smooth skin easily.
© Anupam Karan
Disclaimer: The details mentioned in the post are true to the author's knowledge and for information purpose only. Unauthorized use and/or duplication of this material without express and written permission from this site's author and/or owner is strictly prohibited. Excerpts and links may be used, provided that full and clear credit is given to Anupam Karan (LifestyleSimplify.com) with appropriate and specific direction to the original content.
2,818 total views, 3 views today