Everteen Creme Bikini Line Hair Remover Review
Remove Your Bikini Hair Naturally With Everteen Creme Bikini Line Hair Remover
Earlier women used to use razor to shave off their hair on bikini region. As bikini area is very delicate, it leaves red marks and irritation after application of razor. To solve this problem, Everteen, one of the leading brands that manufacture feminine hygiene products have come up with another innovative product "Creme Bikini Line Hair Remover". I have always been a great fan of its all-natural body care products, and have used a couple of them before. With high expectations, I thought to use and write a review on this product.
Everteen Creme Bikini Line Hair Remover is one of the safest and natural way to get rid of bikini hair easily and quickly. It not just removes hair, but also soothes the skin and leave it fresh and fragrant without any discomforting signs.
Product Details
⦿ Quantity: This product comes in a 50 grams bottle.
⦿ Color, Smell, and Consistency: Everteen Creme Bikini Line Hair Remover cream has white color and medium consistency. Unlike other hair removal creams, this cream does not have any strong and pungent smell. It has a mild smell that makes your skin fresh and fragrant after use.
⦿ Shelf Life: It comes with a shelf life is two years from the date of manufacture.
⦿ Price: Rs. 149
⦿ Availability: This product is available only online shopping marketplaces. Some of the popular online stores where you can get it are:
Everteen.co.in
Amazon
Nykaa
Flipkart
Everteen Creme Bikini Line Hair Remover Ingredients:
This cream is made with only pure and natural ingredients. Some of the key ingredients used in making this formulation are Ewax, cetanol, camomile, liquid paraffin, glycerin, EDTA, NAOH, thioglycolic acid, perfume, and preservatives.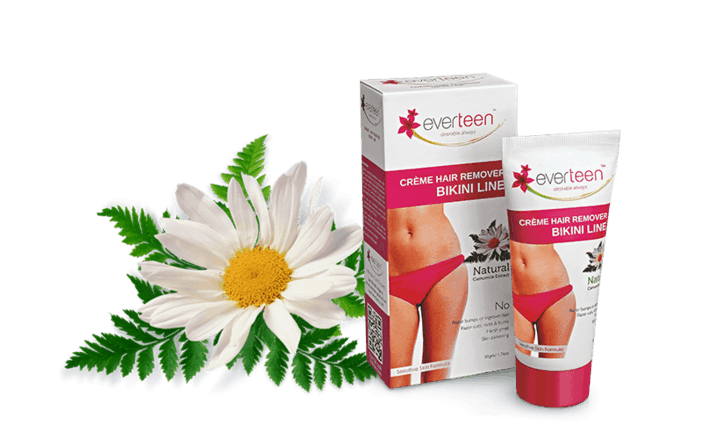 Product Packaging
Everteen Creme Bikini Line Hair Remover comes in a tiny sized squeeze tube that has a white-colored screw open cap. The tube is placed inside a carton box on which all the information related to its ingredients, usage instructions, benefits, price, expiry date, etc. are mentioned.
The packaging is hygienic, user-friendly, and eye-catchy. It consists of one fifty grams tube, one spatula, two-coin sized towel tablets, one wet wipe, and an instruction leaflet. The overall packaging has magenta and white color.
What Does The Product Claims?
The label of the product states that it contains completely natural chamomile extract. This product is mild and gentle on the skin. Chamomile has been known to possess anti-inflammatory properties that removes hair from the root level. The cream is ideal for all types of skin.
How does Everteen Creme Bikini Line Hair Remover work?
Everteen Hair Removal Cream is made from completely natural chamomile extract. On application of cream on the bikini area, the chamomile extract present in the cream begins to show its magical action. It mildly works on the screen and removes all the hair present on the skin gently from the root level. Its soothing action makes the skin soft, clean and smelling fresh after every use.
What is the right way to use Everteen Creme Bikini Line Hair Remover?
First, you need to wash your hands and bikini region. Now take sufficient amount of cream and spread the cream all over the bikini region with the spatula. Let the cream stay for ten to fifteen minutes. Now remove all the cream with the help of towel provided with the product. Clean the skin with normal water.
What makes Everteen Creme Bikini Line Hair Remover superior than other similar products?
? Everteen Creme Bikini Line Hair Remover is a dermatologically, clinically and microbiologically tested formula that makes it completely safe for women of all ages.
? 100% natural
? Works effectively on sensitive skin too.
? Easily available
? Convenient to use
? No ingrown hair
? No razor bumps or cuts
? No burning sensation
? No irritation
? No harsh smell
? No darkening of the skin
? You only get softer, smoother, clear, and fragrant skin naturally.
My Experience with Everteen Creme Bikini Line Hair Remover:
Before Everteen Crème Bikini Hair Remover, I had been using razor to remove hair from my bikini region. I used to feel redness, burning sensation, scars, and cuts on the skin that used to take a few days to disappear. When I started using this cream, I noticed that removing hair from the bikini region was so easier, comfortable and safe. My experience with this product was excellent.
Not just the hair came out fast, but my skin became smoother, softer and cleaner with mild fragrance. There were no signs of irritation, bumps, redness and other annoying signs. Enriched with natural wax, glycerin, and chamomile extracts, the formulation not just cleans the skin but also soothes it. Having felt such an amazing feeling after its use, I would recommend all girls to stop using razors and switch to "Everteen Crème Bikini Hair Remover".
Here are a Few Hand-picked Everteen Product Reviews for You to Read Next:
© LifestyleSimplify
Disclaimer: This is Guest post. The details mentioned in the post are true to the author's knowledge and for information purpose only. Unauthorized use and/or duplication of this material without express and written permission from this site's owner is strictly prohibited. Excerpts and links may be used, provided that full and clear credit is given to LifestyleSimplify.com with appropriate and specific direction to the original content.
1,418 total views, 3 views today