Everyone feels good when they hear compliments about their smooth, glowing and healthy-looking skin. But many of us know, that our skin starts feeling dry, itchy and even develops rashes, after waxing, shaving, threading or using chemically manufactured hair removal creams. Though there are quite a few home remedies and also lotions, which claim to refresh our skin and chill it out after all the pain it has gone through, only a few products really work. Also, ordinary lotions are not always natural and sometimes causes our skin to even burn, which is more pain than gain.
NEUD After Hair Removal Lotion Review
1. Leaves Your Skin Looking Soft And Healthy Even After Hair Removal
Finally, the NEUD company, which is well known for its unique body hair removal products has given a solution to this major problem and has introduced the NEUD After Hair Removal Lotion, which is truly a magical product. This product works perfectly well on skin areas, which are subjected to harsh hair removal methods and helps to soothe and moisturize the skin, almost instantly. The deep nourishment provided by this product, protects your skin naturally and helps the skin regain its glow and moisture.
The best part about the NEUD After Hair Removal Lotion is that it is Unisex, and can be used by both men and women. So, you and your partner can both benefit from the results of this amazing product, without having to buy separate after hair removal lotions.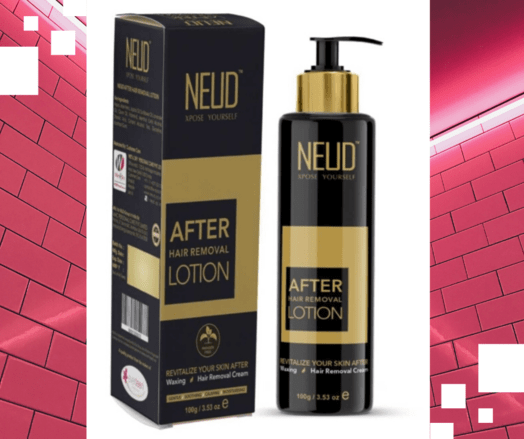 Product Details:
⦿ Weight: It is available in a 100 gm bottle.
⦿ Use: It appropriate for both Men and Women of all types of skin.
⦿ Price: INR 290 only.
⦿ Availability: This product is available only online shopping marketplaces. Some of the popular online stores where you can get it are: Neud.co.in, Amazon, Flipkart, Nykaa.
2. What Ingredients Make The Neud After Hair Removal Lotion So Special?
To ensure excellent moisturization of your skin, the NEUD After Hair Removal Lotion is enriched with certain natural ingredients like jojoba oil, sunflower oil, lavender oil, aloe vera, clove oil, and Vitamin E, which are well known for their healing and skin smoothening properties. The combination of these ingredients works like wonder on your skin and prevents your skin from getting dry and dull after hair removal.
The all-natural ingredients used in this fantastic After Hair Removal Lotion, also helps in restoring your skin's natural pH balance and calms your skin instantly. This way you can keep your skin clear from rashes and itchiness, which otherwise is a very common problem for many of us.
3. How To Use The Neud After Hair Removal Lotion?
The Neud after hair removal lotion, like any other body lotion, needs to be liberally applied on the skin area, after removing your body hair. After the application, allow the lotion to get absorbed completely into your skin, which won't take long. Make sure not rinse or wipe off the lotion. Once this is done, you can instantly start noticing that your skin is glowing and well hydrated.
This effective after hair removal lotion, is a quality product from NEUD, which is a leader and pioneer in specialized body hair removal and is well known for its bestselling products like the NEUD Natural Hair Inhibitor and the NEUD Hair remover spray. So, a single use of the NEUD After Hair Removal Lotion, will give you some mind-blowing results and always keep your skin flawless and glowing. You can also try other NEUD products.
• NEUD Natural Hair Inhibitor Review
• NEUD Hair Remover Spray Review
4. A Few Precautions To Follow
Each one's skin is different, and all cosmetic and personal care products, need to be tested before using them every day. Therefore, before applying the NEUD After Hair Removal Lotion to a large area of your skin, do not forget to do a patch test on a small area of your skin which can be either your calf area or on your wrist, to make sure that the product suits your skin properly. If there is any allergic reaction or itchiness, wash the product off your skin immediately and if the irritation persists, contact your doctor. Also, do not ingest the product and keep it away from small children and from direct sunlight.
5. Conclusion
The NEUD After Hair Removal Lotion, with its advanced formulation, is thus the best lotion you can use after your body hair removal. It can be used on legs, arms, upper lips, bikini area, chest and any other external body part, which feels sensitive and itchy after hair removal. So, what are you waiting for? Grab a bottle of the NEUD After hair Removal Lotion today and try it to get healthy looking soft skin, even after hair removal.
2,597 total views, 3 views today