Have you ever experienced this situation when, you and your partner are invited by your friends to one of the most happening parties in town and all you can think of, are those countless number of hours and money that you will have to spend on shaving, waxing or trimming your unwanted body hair? If yes, then you do not have to worry anymore.
Neud Hair Remover Spray Review
1. Your Magical Mantra For Body Hair Reduction
NEUD hair remover spray is a one stop solution for all your hair removal problems and makes the mammoth task of hair removal, quick and easy. This product works like a wonder and is suitable for both men and women. This modern hair removal spray from NEUD, makes you party ready in just 5 minutes.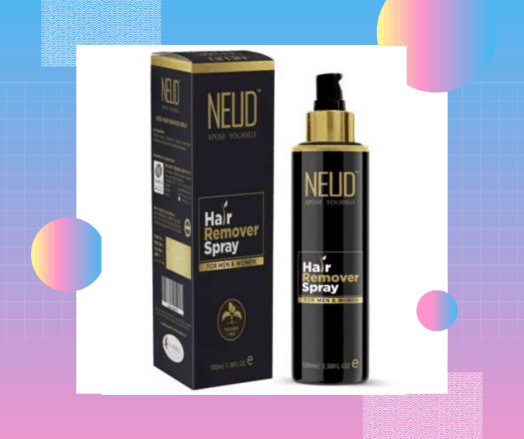 Product Details:
⦿ Weight: It is available in a 100 ml spray bottle.
⦿ Use: It appropriate for both Men and Women of all types of skin.
⦿ Price: INR 290 only.
⦿ Availability: This product is available only online shopping marketplaces. Some of the popular online stores where you can get it are: Neud.co.in, Amazon, Flipkart, Nykaa.
So, if you now thinking about using NEUD hair removal spray, here´s how you do it.
2. How to Use NEUD Hair Removal Spray
First, wash your skin area with plain water. Next, spray a small quantity of this product by holding the bottle upright with an elbow-length distance (10 inches), on the unwanted hair growth area. This can be legs, arms, upper and lower lips, and even bikini line areas for women and chest, back, and facial hair for men. Once you have sprayed the product, allow it to sit on your skin for 5 min before wiping it off gently with a clean towel or wet tissue. Just to make sure all unwanted hair is gone, and the product residue does not remain on your skin, rinse your skin with clean water once more and you are all set to rock and roll. Isn't it so simple? You may also try other products.
• NEUD Natural Hair Inhibitor Review
• NEUD After Hair Removal Lotion Review
The NEUD hair remover spray is thus made to avoid the unnecessary mess and inconvenience which we usually face while using hot wax, shavers, and epilators which sometimes gives us more cuts, bruises, redness, and itchiness, rather than giving us clean and smooth skin. You also don't need to worry about tiny ingrown hair, as the NEUD hair remover spray works like magic to pull off those as well.
The only precautions you need to take while using NEUD hair remover spray is to spray it from a distance to avoid contact with eyes or nose, which might cause irritation, not to ingest the product, keep the product away from kids, direct sunlight, and heat and lastly, to do a patch test on a small part of your skin, as you would do for any cosmetic product. You can also read the safety instructions on the pack carefully, before using the hair remover spray.
3. How is the NEUD hair remover spray so effective?
The NEUD hair remover spray uses the next generation formula and is a painless way to reduce unwanted hair gently. Glycerine, calcium hydroxide, thioglycolic acid, sodium hydroxide, perfume, and purified water are the ingredients used in this hair removal spray and the mixture of these amazing ingredients allows the spray to penetrate deep into your hair follicle sac and stop hair growth from its roots. The spray deactivates the hair bulb, which is the main cause of hair growth, thereby curbing the growth of new hair from the roots.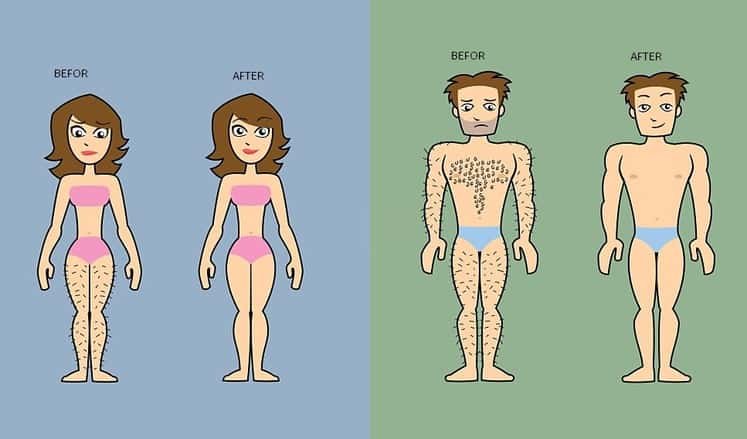 4. Benefits of using NEUD hair removal spray
The first and the best benefit of NEUD hair removal spray is its easy and gentle hair removal, anytime, anywhere. So be it for a date night, party, or just an instant selfie, you always party ready within 5 minutes with this wonderful product.
Secondly, NEUD hair removal spray comes in a sleek and small bottle which you can easily carry in your purse. Also, to avoid the hassle of you carrying extra tissues, you get two-coin tissues free, with every bottle you purchase. These coin-tissues are really tiny and expand into full-sized wet tissues, once it comes in contact with water. This twin combination makes it really convenient for you, to use this product.
Thirdly, NEUD hair remover spray can be used by both men and women and hence is a unisex product. So, you do not have to worry about buying two different products for you and your partner, while you can share just one.
Lastly, NEUD hair removal spray is a quality product from NEUD, the leader and pioneer in specialized body hair removal, known for its bestseller NEUD Natural Hair Inhibitor.
5. Conclusion
Having perfectly smooth skin without unwanted hair is everyone's dream. in my experience, this product has no side effects as well as good for both men and women. So, what are you waiting for? Grab a pack of NEUD hair removal spray today and get the party ready in just 5 minutes.
5,637 total views, 3 views today