Nature Sure Muscle Charge Tablets Review
Build Massive And Strong Muscles Naturally
Muscle develops when the repair is more than the extent of muscle damage. Strength training and other strenuous exercises leads to wear and tear in our muscles. If the required muscle repair does not happen within a fixed period of time, then muscle loss starts to happen in place of its growth. In the market, you can find fancy and expensive muscle mass building whey protein shakes, protein bars, and energy shakes.
Unfortunately, they fail to provide muscle strength and so you do not get any visible gains after all the gruesome effort. Nature Sure, one of the leaders in health and wellness products have manufactured "Muscle Charge". It is a balanced fusion of some of the rarest and potent herbs that adds mass to your muscles and provide massive strength to your muscles naturally.
Product Details
⦿ Weight: It is available in a bottle of sixty tablets.
⦿ Shelf Life: It comes with a shelf life is two years from the date of manufacture.
⦿ Use: It appropriate for both men and women.
⦿ Price: INR 1254 only.
⦿ Availability: This product is available only online shopping marketplaces. Some of the popular online stores where you can get it are:
• Naturessure.com
• Amazon
• Flipkart
• Snapdeal
• 1mg
Product Ingredients:
Each Muscle Charge tablet contains 400mg of Tribulus terrestris, 88mg of Withania somnifera, 10mg of Vitis vinifera, and 2mg of Crocus sativus.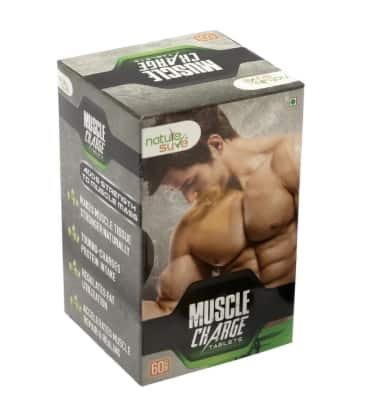 What Does This Product Claim?
The amazing Ayurveda formulation "Muscle Charge" benefits the body especially muscles in a multitude of ways. In addition to building muscle mass, this holistic nutrition also builds real muscular strength. These tablets aids in the accomplishment of the goal of the bigger and muscular body by hastening the muscle tissue repair process and adding strength to your muscles.
How does Nature Sure Muscle Charge Tablet work?
Nature Sure's Muscle charge tablet is a perfect-blend of premium assortment of finest quality Ayurveda herbs that work by providing more energy and vitality to muscle tissues. These herbs assist in protein intake, improve testosterone levels, quickens muscle recovery, and prevent soreness, swelling, and breakdown of muscles.
These tablets build nervine, and muscle strength, supplies high levels of oxygen to different parts of the body, and assists in symmetrical muscle development. Along with muscle repair and growth, Muscle charge tablets also provide remarkable pain relief, enhances immunity levels, boosts the production rate of motor neurons, manage water retention, varicose veins, and thrombosis.
What makes Nature Sure Muscle Charge Tablet superior than other similar treatments?
Nature Sure, one of the reputable brands in the health and wellness sector, has come up with its pure and natural muscle building formulation as "Muscle Charge Tablets".
💪 It is a top-quality vegetarian, and natural product that is approved by "FSSAI". This formulation is made using the finest quality ingredients at ISO, and GMP certified units.
💪 Unlike the popular whey protein shakes, energy bars and other muscle building expensive supplements that only focus on developing muscle mass, Muscle Charge give dual benefits of building muscle mass, and muscle strength.
💪 Facilitates protein intake by the muscles
💪 Boosts metabolism that helps in producing more energy for better development of muscles
💪 Increases stamina
💪 Speeds up muscle recovery
💪 Raise testosterone levels in a legit and natural way that assist in muscle growth.
💪 Prevents collapse, lesions, and inflammation in muscles by lowering the release of stress hormone "cortisol"
💪 Quickens healing after muscle damage
💪 Boosts nervous system to produce motor neurons quickly to assist in contraction and extension of muscles
💪 Manage edema, and coagulation
💪 Shows remarkable results in preventing pain and weakness in muscles after exhausting workouts
What is the procedure to use Nature Sure Muscle Charge Tablets?
Two tablets daily with milk after breakfast and dinner or as instructed by the physician
What are the precautions to use this product?
This product is not advised for pregnant women, lactating women, children, people who have any known allergies, or have bipolar disorder or have undergone recent surgery or have any scheduled surgery in 15 days. People who have diabetes, thyroid, bleeding disorders or erratic blood pressure should not consume it. It is advised to use under the supervision of your general physician.
My Experience with Nature Sure Muscle Charge Tablets:
I have a thin physique and have always dreamed of a muscular body. I was a little skeptical about using widely popular whey protein shakes available in the market. I have heard that it leads to constipation and aggravate lactose allergy symptoms in people. I was looking for a herbal supplement that gives me muscle-building benefits in a natural way. Along with my weight training workouts, I take Muscle Charge Tablets daily with milk twice a day.
As the product claims, even after intense workout sessions, my muscles heal quickly and I feel less soreness in muscles. My testosterone levels and metabolism has increased. It has been a month of usage and I can see the medicine showing results in the form of muscle growth. Hoping to be consistent and realize my dream of an athletic body.
Here are a Few Hand-picked Nature Sure Product Reviews for You:
© LifestyleSimplify
Disclaimer: This is Guest post. The details mentioned in the post are true to the author's knowledge and for information purpose only. Unauthorized use and/or duplication of this material without express and written permission from this site's owner is strictly prohibited. Excerpts and links may be used, provided that full and clear credit is given to LifestyleSimplify.com with appropriate and specific direction to the original content.
926 total views, 2 views today