Nature Sure Agnimantha Weight Loss Review
The Natural And Safe Way To Lose Weight
Weight loss is seen to be one of the most tough jobs for any person. It requires a lot of dedication, consistency, and commitment to achieve the goal. Nowadays the market is loaded with products that claims to provide weight reduction, but very few of them live up to their claims. While struggling to find an effective and safe weight reduction treatment, I came across the "Nature Sure Agnimantha Weight Loss pill". Infused with two potent Ayurveda herbs, Shilajit, and Agnimantha, this pill works marvelously in the body.
It balances the imbalances in air, water and fire element in the body that is viewed to be the major cause behind weight gain. It stimulates digestive fire and aids in the metabolism of accumulated fats in the body. The pills act as a detoxification agent that expel unwanted toxins from the body and increases vitality in the body.
Product Details
⦿ Shelf Life: It comes with a shelf life is three years from the date of manufacture.
⦿ Use: It appropriate for both Men and Women.
⦿ Price: INR 1790 only.
⦿ Availability: This product is available only online shopping marketplaces. Some of the popular online stores where you can get it are:
• Naturessure.com
• Amazon
• Flipkart
• Snapdeal
Product Ingredients:
Nature Sure Agnimantha Weight Loss comprise of 100% pure and natural Ayurveda herbs. It has 100mg of Agnimantha (Clerodendrum phlomidis), and 400 mg of Shilajit (Asphaltum punjabianum)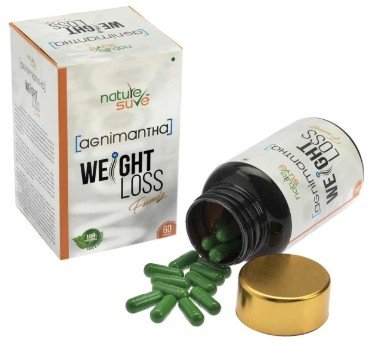 Product Packaging
Nature Sure Agnimantha Weight Loss product comes in a bottle that contains 60 pills in it. It is a sturdy plastic bottle with a cap that closes firmly. The bottle has a twist-open style that keeps the pills secure, and safe.
What Does The Product Claims?
Nature Sure Agnimantha Weight Loss product is made with pure and herbal ingredients that aids in weight loss by boosting the digestive system, and increasing urine frequency. This product is based on the scientifically proven Ayurveda formula. It helps in balancing kapha element (earth), vata element (air) and any imbalances in them. This helps in management of excess fat, and reduce weight naturally.
How does Nature Sure Agnimantha Weight Loss work?
Nature Sure's Agnimantha Weight Reduction Formula helps in regulation of digestive fire in the body that prevents excess calories to get transformed into fat and get stored in the body. The diuretic action of the pills flushes out harmful toxins from the body via frequent urination. This helps in the promotion of health of the body.
This formula helps in enhancing the bio-availability of nutrients. It helps to unlock vitality, and energy in the body and prevent severe fatigue. The herbs and minerals present in these Ayurvedic pills acts as a detoxifying agent, and work by neutralizing Vata and Kapha imbalance, boost digestion, and increase the bio-availability of nutrients in the body.
Why to choose Nature Sure Agnimantha Weight Loss tablets?
Nature Sure Agnimantha Weight Loss pills are ideal for people who are looking to lose unwanted weight from the body and get healthy, and fit. The pills are composed of powerful and effective Ayurveda herbs as Agnimantha, and Shilajit that improves digestive abilities in the body. By regulating the body heat, these pills effectively eliminate toxins from the body and maintains health and energy in the body. This is a fast-acting pill that is seen to provide safe and effective weight reduction in the body. Some of its features are:
🗹 Promotes weight reduction
🗹 Expel toxins
🗹 Suitable for Vegan and Vegetarian diet
🗹 Hygienic, and Travel-friendly packaging
🗹 Promotes faster digestion.
🗹 Ability to dissolve excess cellular fat in the body.
🗹 Regulates digestive heat.
🗹 100 % natural formulations with no side effects
🗹 Reduces triglycerides, and cholesterol levels.
🗹 Unlocks vitality and lowers acute fatigue.
🗹 Prevents all kinds of deposits of excessive fatty tissue to naturally regulate the metabolism of fat in the body.
What is the right way to consume Nature Sure Agnimantha Weight Loss?
It is advised to consume two capsules daily with lukewarm water prior to lunch and dinner, or as specified by your physician.
Precautions to use Nature Sure Agnimantha Weight Loss
Diabetics, pregnant women or lactating women should consume it only after talking to their doctor.
My Experience with Nature Sure Agnimantha Weight Loss:
When I started taking the pill, I felt an increased urge to urinate due to the detoxification action of the herbs. After a couple of days of consumption of the pills, I found a gradual reduction in my weight without any side effects. It is a great medicine to strengthen my weaker digestive system. Increased production of body heat, and faster digestion gives a boost to the metabolism, dissolve existing fat and prevents the storage of new fat in the body. All these features make it an ideal weight reduction medicine for people.
Here are a Few Hand-picked Nature Sure Product Reviews for You:
© Anupam Karan
Disclaimer: The details mentioned in the post are true to the author's knowledge and for information purpose only. Unauthorized use and/or duplication of this material without express and written permission from this site's author and/or owner is strictly prohibited. Excerpts and links may be used, provided that full and clear credit is given to Anupam Karan (LifestyleSimplify.com) with appropriate and specific direction to the original content.
1,033 total views, 1 views today