Nature Sure Mind Shakti Tablets Review
A Natural Therapy To Boost Your Mental Health And Overall Wellbeing
Are you experiencing anxiety, stress, mood swings, and other type of mental health troubles, then it is the time to seek treatment to boost your mental health. Mind Shakti Tablets by Nature Sure are made with 100 % premium quality and finest quality natural ingredients that includes twelve essential minerals, and vitamins, and eighty powerful anti-inflammatory compounds that fights off free radicals in the body and strengthen nervous system naturally.
Product Details
⦿ Shelf Life: It comes with a shelf life is two years from the date of manufacture.
⦿ Use: It appropriate for both Men and Women.
⦿ Price: INR 894 only.
⦿ Availability: This product is available only online shopping marketplaces. Some of the popular online stores where you can get it are:
• Naturessure.com
• Amazon
• Flipkart
• Snapdeal
• 1mg
Product Ingredients:
Each 600mg tablet of Nature sure Mind Shakti tablet contains 400 mg of Moringa Oleifera, 50 mg of Shankpushpi, 50 mg of Brahmi, 20 mg of Vatch, 20 mg of Gorakhmundi, 20 mg of Sarphonk, 20 mg of Ashwagandha, and 20 mg of Jatamansi.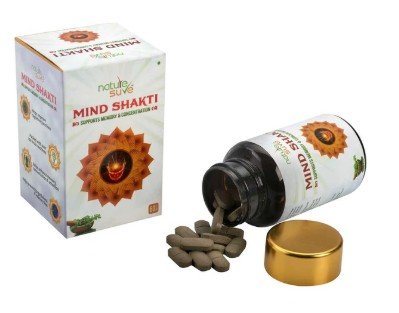 Product Packaging
Nature sure Mind Shakti tablet comes in a simple yet classy packaging. It comes in a bottle with a firmly sealed cap and twist style opening. It ensures that this tablet remain fresh in the container. You need to twist the cap to open it. The bottle is designed to be light in weight and travel-friendly that makes it easy to carry it anywhere.
What Does The Product Claims?
Nature sure mind shakti tablets are an impressive Ayurvedic formulation. It comprises of an effective combination of premium quality, and powerful herbs, vitamins, minerals and inflammatory compounds that have all the nutrition to boost the mental functioning of a person. and nutrient-rich herbs.
Each tablet of Mind Shakti contains vitamin A, B vitamins, vitamin d, I-carotene, ascorbic acid, oleic acid, flavonoids, stearic acid, palmitic acid, tannins, alkaloids, saponins, phenolics, gum, glycoside, iron, folates, calcium, zinc, magnesium, phosphorus, and potassium that improves the concentration and memory in the person.
It relaxes the brain and gives relief from anxiety and stress. The vitalizing and nourishing action of the ingredients strengthen the brain so that it can withstand touch conditions without breaking down.
How does Nature Sure Mind Shakti Tablets work?
Nature Sure Mind Shakti Tablets are one of the safe and effective herbal therapies available in today's market. It is a boon for people who suffer from forgetfulness, irritability, and lack of concentration. The natural ingredients present in the tablets works at the root level.
When you complete the full course of the treatment, you would start to see remarkable enhancement in your mental functioning. You get the ability to perform multiple task at one time with great ease. These tablets feed your brain with necessary nutrients that improve concentration power, reduces mood swings, and makes one calm, and rational.
Why to choose Nature Sure Mind Shakti Tablets?
Mind Shakti tablets are made with powerful Ayurveda herbs that are known to boost mental capabilities of a person. It improves memory, relaxes nerves and muscles, and invigorates brain cells to ensure improved performance. Some of the remarkable features that makes it stand out from other products that claim similar benefits are:
? Easy to intake
? Travel-friendly
? Enhances the flow of blood
? Promotes better focus and concentration power
? Made with potent Ayurveda herbs improves the functioning of your brain
? 100% organic treatment that is derived from natural plant-based extracts ingredients
? No side effects
? Soothes and relaxes your brain.
? Increased ability to concentrate on tasks.
? Convenient packaging.
What is the right way to consume Nature Sure Mind Shakti Tablets?
A person should consume two tablets daily post-lunch and dinner or as directed by a physician.
Precautions to use Nature Sure Mind Shakti Tablets
Nature Sure Mind Shakti Tablets is not advised for breastfeeding, and pregnant women and those who suffer from hypotension. There is a possibility that the ingredients in these tablets can chemically react with your existing medications. It is advised to check with your doctor before you consume these tablets.
My Experience with Nature Sure Mind Shakti Tablets:
Nature Sure Mind Shakti Tablets has been a powerful remedy that treats a vast range of mental disorders naturally. These tablets helped me greatly by relieving signs of restlessness, anxiety, memory loss and poor focus in a person. As it is an Ayurvedic tablet it will take a little more time to treat the problem from the root level. Consistency will pay you rewards. These tablet works magically to boost your nervous system and improves your problem solving and learning skills. Your brain gets strengthened to deal with stressful conditions better. Completing the course of these tablets will improve your overall health.
Here are a Few Hand-picked Nature Sure Product Reviews for You:
© Anupam Karan
Disclaimer: The details mentioned in the post are true to the author's knowledge and for information purpose only. Unauthorized use and/or duplication of this material without express and written permission from this site's author and/or owner is strictly prohibited. Excerpts and links may be used, provided that full and clear credit is given to Anupam Karan (LifestyleSimplify.com) with appropriate and specific direction to the original content.
1,941 total views, 3 views today