Nature Sure Jonk Tail Review
A Reliable And Long Lasting Cure For Baldness And Alopecia
The importance of Leech Oil has been documented in our oldest traditional system "Ayurveda". The oil has been used as a promising and safe treatment of persistent hair and scalp issues in both men and women. This advanced herbal formulation deeply nourishes and strengthens hair roots and, and promotes hair regrowth that, in turn, cures baldness, and alopecia.
Product Details
⦿ Weight: The product comes in 3 capacities, 110ML, 200 ML, 300 ML bottle.
⦿ Packaging: Nature Sure Jonk Tail comes in a transparent bottle with a pump dispenser.
⦿ Texture: The product is light and non-sticky.
⦿ Fragrance: The Jonk Tail Oil product has a slight pungent smell that it is an indicator of the purity of its ingredients. There is no added artificial smell in the oil.
⦿ Shelf Life: It comes with a shelf life is two years from the date of manufacture.
⦿ Use: It appropriate for both Men and Women of all types of skin.
⦿ Price: INR 239 only.
⦿ Availability: This product is available only online shopping marketplaces. Some of the popular online stores where you can get it are:
• Naturessure.com
• Amazon
• Flipkart
• Nykaa
• Snapdeal
Product Ingredients:
The major ingredients present in this product is Jonk Oil or Leech Oil.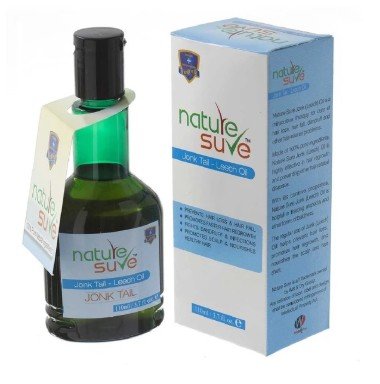 What Does This Product Claims?
The manufacturer of the product "Nature Sure" states following impressive actions of the product as.
✔ Prevents hair fall, and hair loss
✔ Promotes quick regrowth of hair
✔ Helps in the successful treatment of baldness, and alopecia
✔ Removes presence of fungus, and dandruff
✔ Nourishes scalp and promotes healthy hair
How does Nature Sure's Jonk Tail cure Alopecia and Baldness?
Nature Sure Jonk Oil is a magical therapy that works by stopping hair loss, hair greying, hair-splitting. The premium quality natural ingredients present in the oil stimulates the circulation of blood in the scalp. This action enhances the delivery of scalp nourishing nutrients to hair follicles, and makes them strong.
In addition to it, the anti-bacterial action of the oil cleans the scalp and keeps it free from infection, lice, and dandruff that can be the cause of hair fall. By improving the hair roots, follicles, and the shaft, Jonk Oil cures alopecia and baldness naturally.
What makes Nature Sure Jonk Oil superior than other hair growth treatments?
Nature Sure's Jonk Oil is suitable for the use by both men and women with almost all types of hair that includes thin hair, damaged hair, oily hair, dry hair, dull hair, and normal hair. The oil is effective in beneficial in treating a wide range of hair disorders effectively. Regular application of this oil provides the following types of benefits in a person.
? Its anti-dandruff action keeps your hair free from dandruff throughout the day.
? Its anti-aging action naturally darken your hair and thus prevents greying of hair due to aging.
? The oil works at the root level to promote growth in hair.
? The anti-bacterial action of Jonk / Leech helps in removing the presence of lice on your scalp.
? The oil has got several scalp nourishing nutrients that promotes a healthy and clean scalp naturally
? The vitalizing action of the oil prevent splitting of hair ends, and make them stronger
? Jonk Oil has natural conditioning properties that gently conditions your hair and make them silky and smooth.
? With regular application of this oil, you would notice that your hair quality starts to improve. New hair will begin to grow and your hair density will start to thicken.
? With better nourishment, your hair will regain its lost natural shine and lustre
? The oil works at the root level and make them stronger and well-nourished. This action prevents hair fall.
What is the procedure to apply the product?
→ Apply Nature Sure's Jonk Oil just before going to bed. Take an adequate quantity of oil and work up evenly to your hair roots and scalp.
→ Massage the oil gently with your fingertips covering the entire scalp for about fifteen minutes.
→ Leave it overnight. Wash your hair on the following day with luke-warm water.
→ For best results, apply the oil for a minimum of two to three months.
My Experience with Nature Sure's Jonk Oil
I noticed my hair started to thin out from all over the scalp. As none of the treatment succeeded in curing my hair disorders, I finally got my hands on with Nature Sure's Jonk Oil. From the first day of its use, my hair felt better. I started noticing less hair fall on my pillow, no dandruff and my hair appeared glossier and silkier after every use. After a couple of applications, I found new hair began to sprout on the places where there was no hair. I really loved this treatment as it improved not just my hair quality and density, but also my confidence.
Here are a Few Hand-picked Nature Sure Product Reviews for You:
© Anupam Karan
Disclaimer: The details mentioned in the post are true to the author's knowledge and for information purpose only. Unauthorized use and/or duplication of this material without express and written permission from this site's author and/or owner is strictly prohibited. Excerpts and links may be used, provided that full and clear credit is given to Anupam Karan (LifestyleSimplify.com) with appropriate and specific direction to the original content.
2,035 total views, 3 views today