Nature Sure Somni Natural Sleep Aid Tablets Review
Enjoy A Relaxing And Peaceful Sleep
A sound sleep of seven to eight hours is essential for the sound functioning of our body and mind. However, due to a hectic lifestyle, our sleeping patterns and schedules goes for a toss and this ultimately impacts our overall mental and physical health. To restore your valuable sleep cycle, Nature Sure, a prominent health and wellness brand, has brought "Somni Natural Sleep Aid Tablets". The tablets are suitable for men and women. Enriched with the goodness of Ayurveda herbs and natural ingredients such as Brahmi, Amla, Pipla Mool, and Vach, these tablets promote sound sleep in a person naturally.
Product Details
⦿ Weight: It is available in a bottle that contains 90 tablets.
⦿ Shelf Life: It comes with a shelf life is two years from the date of its manufacture.
⦿ Use: It is appropriate for both men and women.
⦿ Price: INR 780 only.
⦿ Availability: This product is available only online shopping marketplaces. Some of the popular online stores where you can get it are:
• Naturessure.com
• Amazon
• Flipkart
• Snapdeal
Product Ingredients:
Each Nature Sure Somni tablet is a blend of powerful Ayurveda herbs such as Brahmi, Vatch, Shankhpushpi, Kali Mirch, Gajwaan, Amla (Emblica Officinalis), Khurasin Ajwain and Pipla Mool.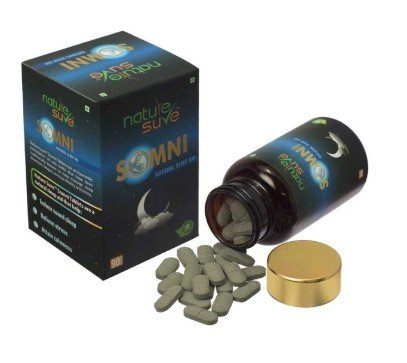 Product Packaging
Tablets comes in a hygienically packaged airtight plastic container. All the details pertaining to ingredients, dosage and safety instructions are mentioned on it. The bottle is sturdy with a tight lid that protects the tablet from coming in contact with moisture.
What Does This Product Claim?
The product label states that the "Somni Sleep Aid Tablets" by Nature Sure is 100% Ayurvedic formulation that comprise of natural and high-quality Kalonji seeds. These tablets keep a person in good mental health. It promotes sound sleep and cures fatigue, stress, and nervous debility in a person.
How does Nature Sure Somni Sleep Aid Tablet work?
➡ Nature Sure Somni Natural Sleep Aid Tablets are an advanced herbal formulation that comprise of careful selection of herbs that are known to cure sleep deprivation issues naturally. These tablets are free from animal fats, harmful chemicals, and gluten that makes it safe to consume.
➡ Nature Sure Somni Natural Sleep Aid Tablets is a scientific formulation that comprise of the richness of highly potent, and nutrient-dense ancient herbs. These tablets are tried and tested on both men and women with impressive results.
➡ The relaxing and mind revitalizing properties of the herb help to induce sound sleep. This makes a person wake up fresh, and energizes on the next day. Better sleep leads to the proper functioning of the physical faculties of the body. It improves concentration, and productivity of a person too.
What makes Nature Sure Somni Sleep Aid Tablets superior than other treatments?
Nature Sure, one of the reputable brands in the health and wellness sector, has come up with its pure and natural sleep aid formulation as "Somni Sleep Aid Tablets".
🗹 It is an Ayurvedic medicine, that is approved by the ISO, and FSSAI.
🗹 Unlike other chemical infused medicines, and treatments available in the market that gives temporary results and annoying side effects, Nature Sure Somni Sleep Aid Tablets yields amazing results and they are perfectly safe to use.
🗹 These tablets are completely natural, and vegan in nature
🗹 They are easy to buy and consume.
🗹 Travel-friendly.
🗹 Calms the mind and destresses a person
🗹 Helps in reducing fatigue
🗹 Effective in inducing sound sleep.
What is the procedure to use Nature Sure Somni Sleep Aid Tablets?
Take 1 to 2 tablets with water after dinner, or as advised by the physician.
Are there any precautions mentioned to use this product?
Breastfeeding women, pregnant women, and children should not consume this medicine. As it is sleep-inducing medicine, avoid consuming these tablets three hours prior to performing any physical activity like swimming, driving, etc. If you are on any existing medication, you need to consult your physician about its inclusion in your regime.
My Experience with Nature Sure Somni Sleep Aid Tablets:
This tablet is ideal for those who suffer from sleep issues or insomnia due to stress, restlessness, hectic lifestyle, etc. Nature Sure Somni Sleep Aid tablet is a natural way to cure sleep disorders. Made with precious brain-enhancing herbs like Brahmi, Shankhpushpi, etc., this tablet treats any irregularity in sleep from the root level. It makes you calm, relaxed, and peaceful. The tablet promotes sleep without causing any side effects or addiction to it.
Somni Sleep Aid tablets are a great way to set your sleep schedule and attain nervous stability. The goodness of this 100% natural supplement is sure to add vitality to your body. I myself tried it and I am happy with the results. I would recommend everyone to make these tablets a part of the lifestyle, to enjoy a healthy body naturally.
Here are a Few Hand-picked Nature Sure Product Reviews for You:
© Anupam Karan
Disclaimer: The details mentioned in the post are true to the author's knowledge and for information purpose only. Unauthorized use and/or duplication of this material without express and written permission from this site's author and/or owner is strictly prohibited. Excerpts and links may be used, provided that full and clear credit is given to Anupam Karan (LifestyleSimplify.com) with appropriate and specific direction to the original content.
1,066 total views, 1 views today