Nature Sure Pores And Marks Oil Review
Look More Prettier And Fairer
Skin is one of the most important aspects of our beauty and personality. A healthy and blemish free skin is appreciated everywhere. Market is flooded with skincare products that aims at lightening the complexion and removing ugly spots from it. I was looking for a natural solution that treats my skin safely and gives me long lasting results. I found Nature Sure's "Pores and Marks Oil". This article reviews this product in detail.
This is an "All in one" oil that provides a wide range of skin benefits to a person. It is enriched with Oleic acid and various other natural ingredients that moisturizes the skin, unclogs and shrinks large skin pores. This herbal formula heals the skin from inside, removes aging signs, and stretch marks and gives you a flawless and radiant skin naturally.
Product Details
⦿ Weight: The product comes in a 100 ml bottle.
⦿ Texture: The product is light in weight and non-sticky oil.
⦿ Fragrance: The oil has got a pleasant fragrance
⦿ Shelf Life: It comes with a shelf life is two years from the date of manufacture.
⦿ Use: It appropriate for both Men and Women of all types of skin.
⦿ Price: INR 1379 only.
⦿ Availability: This product is available only online shopping marketplaces. Some of the popular online stores where you can get it are:
• Naturessure.com
• Amazon
• Flipkart
Product Packaging
The product comes in a hygienically packed tube that ensures you get to use the fresh product each and every time. This prevent the oil to spill. The packaging is designed to be handy that makes it easy to take out the necessary amount of the oil for your use.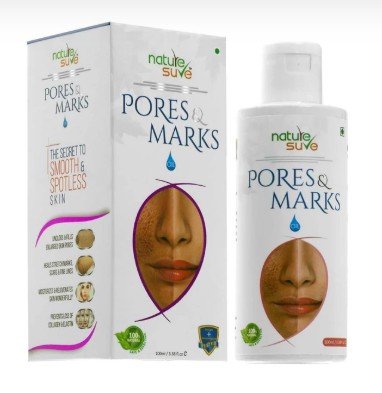 Product Ingredients:
Nature Sure Pores And Marks Oil has 72% of Oleic acid and other natural ingredients that makes it complete safe, and gentle on the skin.
This Oil What Does This Product Claims?
Nature Sure Pores and Marks Oil is 100% natural, pure and vegan formulation that is safe and effective on men and women. It is enriched with more than eighty anti-inflammatory, and antioxidants compounds that deeply nourishes, and soothes your skin.
This beauty oil has 72% oleic acid and the large concentration of skin beneficial vitamins such as Vitamins A, Vitamin B, Vitamin C, Vitamin D, and Vitamin E, iron, copper, manganese, magnesium, silica, zinc, etc. to provide a lot of nutrition to the skin. They sink deep into the skin and rejuvenates your skin.
How does Nature Sure Pores And Marks Oil work?
→ Nature Sure Pores And Marks Oil is a natural formulation works internally to cure all types of skin problems that includes hyperpigmentation too.
→ It unclogs as well as fills large-sized skin pores, to give you a younger looking skin naturally.
→ This oil shows fabulous results for enlarged skin pores, stretch marks, acne spots, and fine lines.
→ Nature Sure Pores and Marks Oil hydrates and locks moisture in the skin, thereby making it soft and supple.
→ It stops the loss of elastin, keratin, and collagen that keeps your skin youthful.
→ Loaded with antioxidants, it fights free radicals in the body, to prevent the development of acne, scars, fine lines, wrinkles, etc.
→ The oil works naturally by tightening large skin pores, lighten the complexion, and nourishes the skin.
What makes Nature Sure Pores And Marks Oil superior than other similar treatments?
Nature Sure, one of the reputable brands in health and wellness sector, has come up with its pure and natural skin care formulation as "Pores And Marks Oil".
🗹 It is a harmless product that is completely devoid of sulphate, paraben and other chemical products.
This oil has been clinically proven to improve your skin health by healing stretch marks, pimples, and scars on the skin.
🗹 This oil acts as an anti-aging solution that shows remarkable action to fade the various signs of aging such as wrinkles, fine lines, dark circles, dark spots, acne, etc. on the skin.
🗹 This oil is enriched with skin vitalizing minerals and vitamins that brings radiance to a dull skin.
What is the procedure to apply the product?
Wash your skin and apply some drops of this oil two times a day. Massage your skin with this oil in circular ways till it gets completely absorbed.
My Experience with Nature Sure Pores And Marks Oil
I applied this oil twice a day for about fifteen days and am very satisfied with the results. Earlier I used to have pimples on my face, that started to reduce to tiny spots that all fade away in just 15 days. Regular application of the oil made my skin tight, radiant and smooth naturally. The oil is designed to be used for all types of skin and work on both men and women. I am definitely going to recommend it to my all readers to try this 100% natural and safe skincare treatment today.
Here are a Few Hand-picked Nature Sure Product Reviews for You:
© Anupam Karan
Disclaimer: The details mentioned in the post are true to the author's knowledge and for information purpose only. Unauthorized use and/or duplication of this material without express and written permission from this site's author and/or owner is strictly prohibited. Excerpts and links may be used, provided that full and clear credit is given to Anupam Karan (LifestyleSimplify.com) with appropriate and specific direction to the original content.
905 total views, 2 views today